May 2014
A tribute to all who died & suffered as a consequence of World War 1.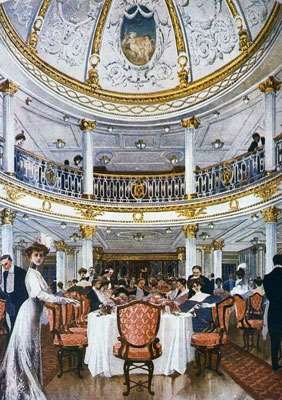 This is the fifth of a series of articles featuring Carlton Heraldic China models relating to the war.
RMS Lusitania

In part four we looked at Carlton China models of battleships, showing you six. In this part we look at other Carlton Heraldic China boats relating to the war. One of the most famous was the Ocean Liner RMS Lusitania. Launched by the Cunard Line in 1907, she had some of the most luxurious, spacious and comfortable interiors afloat.

On the right is a promotional drawing of the first class dining room, in the neo-classical style.

On 1 May 1915 she left New York for Liverpool on what would be her final voyage. On the afternoon of 7 May Lusitania was torpedoed by a German U-Boat off the Southern Coast of Ireland. In 18 minutes she was sent to the bottom with great loss of life.

Below is a picture of the Lusitania in New York in 1915 and the headline from The New York Times on 8 May later that year.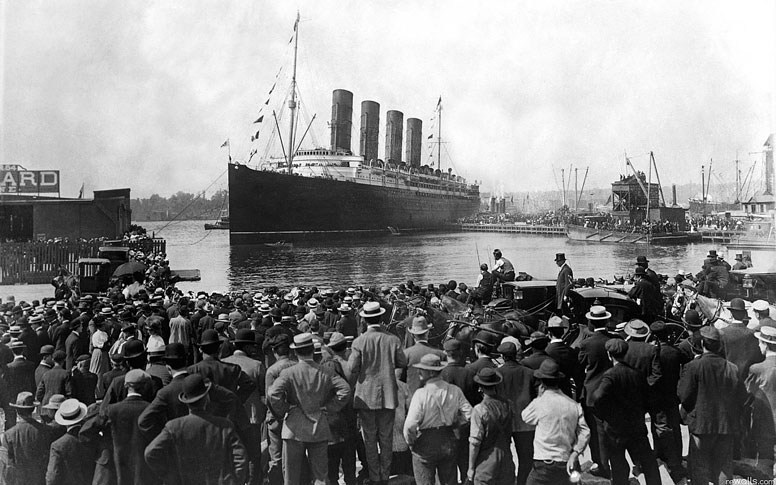 Before the fateful voyage, the Imperial German Embassy in Washington placed a notice underneath a Cunard advertisement warning passengers of "destruction". These are shown below.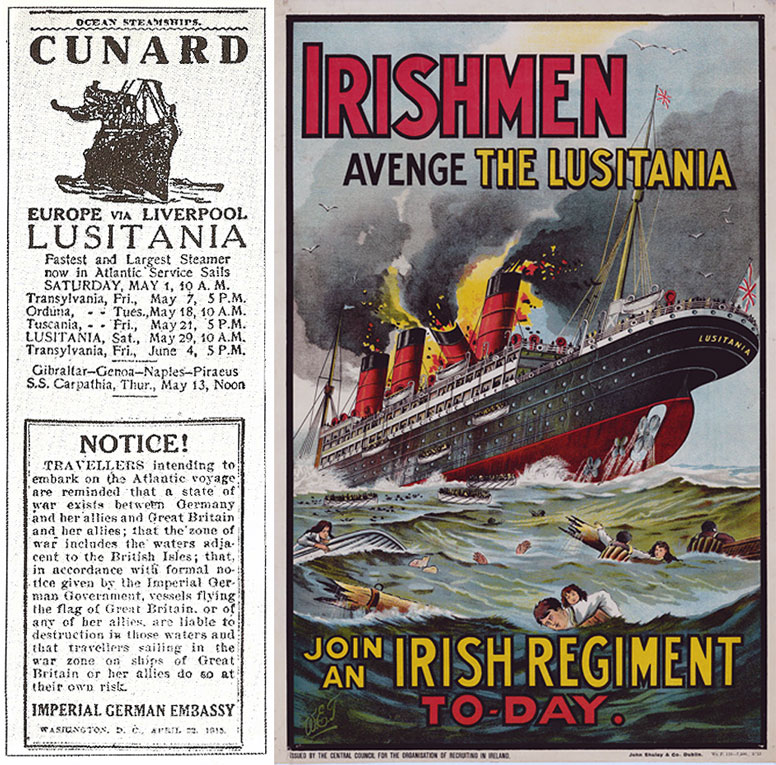 The sinking turned international public opinion against Germany and contributed to the USA's entry into the conflict in 1917. As the poster above shows, the sinking became an iconic symbol in military recruiting campaigns.

Below is a Carlton China model of RMS Lusitania printed with the words Remember the Lusitania on her stern; it is also found with the words shown in the inset. A printed and enamelled decoration of the liner was also used on other heraldic china shapes such as the jug also shown.

---
HMHS Anglia
Six months after the sinking of the Lusitania the passenger steamer SS Anglia was sunk after hitting a mine that had been laid by a German U-boat. She had been turned into a hospital ship and renamed HMHS Anglia; the prefix HMHS stands for His Majesties Hospital Ship. She was returning from Calais to Dover carrying 390 injured officers and soldiers; she sank in 15 minutes. Although a nearby torpedo gunboat and a coal carrying ship helped evacuate passengers and crew, 134 people lost their lives.

The poster on the right, captioned Kultur vs Humanity, dramatically portrays a drowning nurse and her rescuer shaking his fist at a submarine. In this case it is the Canadian hospital ship HMHS Llandovery Castle that has been torpedoed, as the life belt shows.

Below are pictures of HMHS Anglia:-

Sinking in 1915.
As a steamer in 1904.
The Carlton China model of her as a hospital ship.

Sometimes the china model is found inscribed

Model of British Hospital ship whose voyage was disregarded on three occasions by German submarines.
---
The Floating Mine

HMHS Anglia was sunk by a German mine. Carlton Ware made a model of what could be have been based on such an enemy device; it was inscribed Model of a Floating Mine. An example is shown on the right. Below this is a photograph of three German sailors standing behind a similar mine on the deck of a ship. Alongside these pictures is a drawing from an intelligence document about German naval weapons.

Most mines were moored to the seabed by a sinker, which prevented them from drifting away. Notice on the Carlton China model the coiled chain inside its square sinker ready to be released when in the water.

The mines floated below the surface of the sea so that they could not be seen. They were set at a depth so as to hit vessels with deep drafts. These were the larger ships so mines were not expended on smaller "less valuable" boats.

The Allies also used mines defending coasts, coastal shipping, ports and naval bases. The total number deployed during the whole of WW1 is thought to be about 235,000.

After the war mines had to be cleared from the seas though some broke away from their moorings during heavy storms and began to drift.
---
HMS Minesweeper

The fishing trawler lent itself well to mine removal and many were built or requisitioned by the Royal Navy for this purpose. A Carlton China model of a trawler used as a minesweeper is shown below along with a picture of HMT Galahad, which served in WW1 and WW2. HMT stands for His Majesties Trawler; the china model is inscribed HMS for His Majesties Ship.
The total number of mines laid in the North Sea, the British East Coast, Straits of Dover, and Heligoland Bight is estimated at 190,000. Clearing these barrages after the war took 82 ships and 5 months, working around the clock. Below is a drawing showing how two trawlers would sweep the submerged mines and safely detonate them.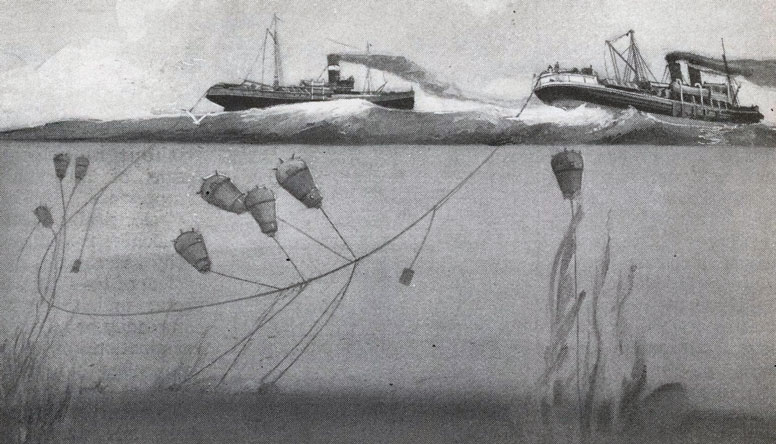 ---

British Monitor

During World War I the Royal Navy developed several classes of ships designed to give close support to troops ashore. Called "monitors", they often operated in river mouths.

Shallow bottomed, they were not suitable for naval combat or any sort of work on the high seas. Their armament was typically a turret taken from a de-commissioned pre-dreadnought battleship.

Usually inscribed Model of a British Monitor, the Carlton China model below is probably loosely based on a Type 29 Monitor, also shown.

Sometimes this model was incorrectly named HMS Humber, which was a different Monitor design.

As with all of the Carlton China ships the fore is considerably shortened, when compared to the vessels on which they were based. One reason to do this might be to make models less likely to damage in transit. Another could be that shorter models are less likely to distort on firing. Apart from the foreshortening, generally speaking the Carlton China models were reasonably faithful to the ships that they portrayed.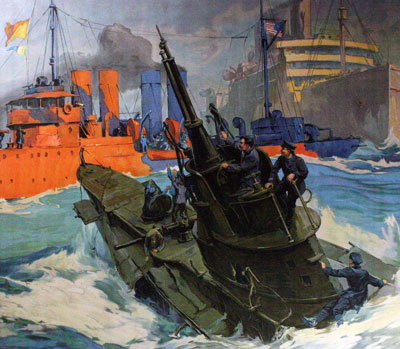 This concludes our article on Carlton China ships relating to World War One.

Our next article, Part Six, looks at Carlton China models of submarines.
Other Articles in this series on Carlton China models relating to WW1


Part 1 Men in the Military.
Part 2 The role that women played.
Part 3 Weapons of war.
Part 4 Battleships.
Part 6 Submarines.
Part 7 Tanks.
Part 8 Armoured vehicles.
Part 9 Aeroplanes.
Part 10 Airships.
Part 11 Military Caps & Hats.
Part 12 Miscellaneous.

© Harvey Pettit 2014.
To email Harvey about this article, especially if have any corrections to make.
---