---
During almost 100 years of production at the Copeland Street Pottery many backstamps were used. Here we show the most typical.

Backstamps only enable us to date ware approximately.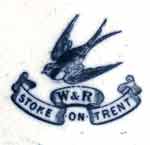 The Ribbon mark - 1890-c1893.


This is the first known backstamp used by Wiltshaw & Robinson when the pottery was formed, around 1890.

Here, it is shown printed in blue, but brown and maroon were also used.

In 1894 it was replaced by the Crown mark, shown next.
The Earlier Crown mark - c1894-c1926.


This mark is usually found printed in blue, as here.
Brown was also used, mostly on earlier wares.
More rarely it was printed in black. A gold printed version was sometimes used on early lustres.

The blue, black and gold versions appear to have been used concurrently with the like mark below.
The Later Crown mark - c1920-c1926.


Though similar to the mark above, notice that the crown is different and that Made in England has been added.
The date of introduction, 1920, is estimated.

To date, this mark has only been found printed in black, or decorated and reprinted in gold for the CHINALAND pattern.
Heraldic China marks - 1903-c1926.


Most Heraldic China is found with a smaller version of the Crown mark and with Ware being replaced by China. The marks are usually printed in black.

Notice the different forms of the crown. The smaller the size, the less detailed it, and the rest of the mark, becomes.





The Script mark - 1926-1987.


This mark and its many variants was in use for more than 60 years.
It was printed in blue or black. Latterly, a gold version was placed on some Best Ware.
The China mark - 1928-1932.


This mark was used on bone china made at the Vine Pottery after Carlton Ware bought it in 1928.
To date, found printed in blue or black.
Shortly after buying Carlton Ware in 1968, Arthur Wood & Sons introduced new backstamps.


The script mark, however, continued to be used, though the method of applying it was different; slide on lithographs replaced the printed marks that were produced from copper engravings.
The Cooper Black mark - 1969-1989.


A lithographic slide on transfer, named after the typeface Cooper Black, which was popular in the 1960s. It was usually black or yellow.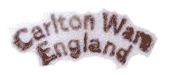 Woods Rubber Stamp mark - 1969-1989.


This mark, as its name indicates, was printed using a rubber stamp, which was a quick and inexpensive way of backstamping ware. It was usually stamped in black.

Lustre Pottery Rubber Stamp mark - c.1974
Initially used on Roger Michell & Danka Napiorkowska's Walking Ware. Superseded by the mark below. Printed using a rubberstamp, a quick and inexpensive way of marking ware. It was usually stamped in black.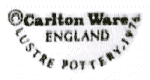 Lustre Pottery mark - c.1974-1987.
A lithographic slide on transfer incorporating the Cooper Black mark and Lustre Pottery's mark. Used on ware designed by Roger Michell & Danka Napiorkowska.
Note that the dates incorporated with these backstamps refer to the year
in which in the copyright for the design was registered, not the year of manufacture. This explains why ware with a backstamp dated 1973 is first made by Carlton Ware at least one year later.
---