---
Gladys Bennett
1936-2019
Paintress.
With great sadness we tell you that Gladys Bennett passed away earlier this month age 83. Gladys was well known by attendees of our Stoke-on-Trent meetings and gave us many entertaining recollections of her time working at Copeland Street. Below is a picture of her as a young woman demonstrating raised enamelling.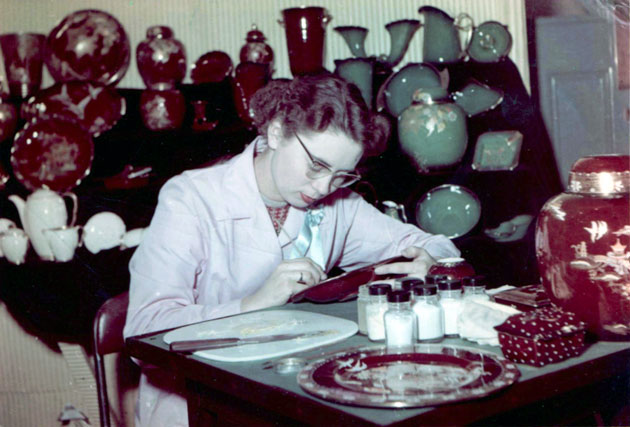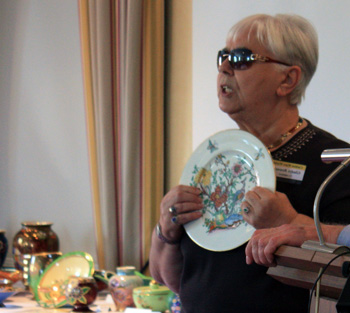 Gladys May Bennett was born in 1936. On leaving school in 1950 she began working for Carlton Ware to train as a decorator.
On the right is a picture of Gladys from 2011, some 60 years later, showing us and talking about her training plate. These had to be decorated perfectly before trainees were allowed to decorate ware.
Gladys always spoke with great passion about her days at Carlton Ware, above all speaking highly of the camaraderie on the works. It was always captivating to hear her recollections.
Gladys left Copeland Street in 1986 after 36 years working at the pottery. From the Summer of 2018, below is a picture of Gladys standing next to her husband Donald, who she married in 1957. Alongside are more of our lovely Carlton Ladies, Evelyn, Pat, Jean, Connie, Linda and Marjorie.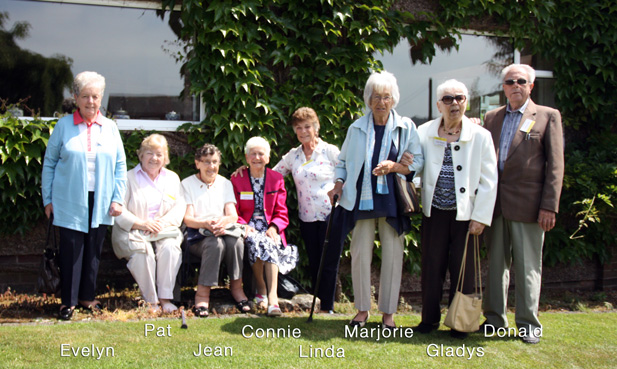 The picture was taken at the home of Vanessa Barnish, Cuthbert Wiltshaw's granddaughter, who with her husband Arthur, kindly hosted this former employees Get-together organised by Sara and John.
Gladys leaves her husband Donald, daughter Helen and granddaughters Gemma and Samantha. And of course lots of beautifully decorated Carlton Ware. We will miss you Gladys.
Donations to The Alzheimer's Society would be much appreciated.
Harvey Pettit November 2019.
---
Lily Heath
1921-2011
Clay Manageress.
We are sorry to announce the death of Lily Heath 1921-2011. On behalf of Carlton Ware World we have sent a floral tribute to her family.

Lily joined Carlton Ware in 1935 at the age of 14 beginning work as a sponger, eventually becoming Clay Manageress. She remained with the pottery until it went into liquidation in 1989. Her stay was fifty four years long!

During a slack time in the 1930s, she left Carlton Ware briefly to earn more money with Shorter & Son, who had a works opposite.
On hearing that Lily had left, Cuthbert Wiltshaw's brother Douglas, who managed the clay end at Carlton Ware, made his way through the pouring rain to Shorter's, grabbed the diminutive Lily by the shoulders, lifted her off her feet and carried her back to Carlton Ware telling her that "You work for this firm not across there." This is just one example of how well Lily was regarded at the Pottery.

Her stories and jokes brought a blush to many cheeks, including mine! Lily was so attached to Carlton Ware and the Copeland Street Works that, at the age of 68, when the buildings were sold for redevelopment, she took a part time job cleaning the offices of the new owners. " Money for old rope" she exclaimed when talking of her new employment!

Always colourful and fun to be with, the laughter that she brought still rings loud.

Harvey Pettit. ❑

We would like to thank Linda Dobson, Warehouse Manageress, for the picture of Lily sorting out the Ruby Ware for the liquidation auction in 1989. Thanks also to The Cochrane & Pettit Archive of Carlton Ware for the use of interviews with Lily carried out in the 1980s.
---
Saturday 13 December 2008
Rachael Bennett
1935 - 2008
Paintress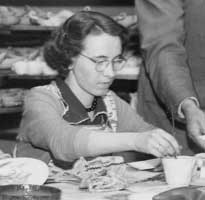 Many of you who attended the Carlton Ware conferences in Stoke, held since 1995, will have met and chatted to paintress Rachael Bennett. Until recently, Rachael always joined us, with her sister Gladys Bennett, at our annual Staffordshire get-togethers. Rachael started work at Copeland Street in 1950.

With great sadness, we have to tell you that she passed away on Friday 5 December 2008.

The picture, left, shows Rachael as a young woman at her bench. It was taken whilst she demonstrated her painting to singer Dicky Valentine, who was a big celebrity at the time.

Rachael was born in Newcastle in 1935. She spent most of her working life at Copeland Street, where on leaving school at the age of 15 began as an apprentice paintress. Ever creative, Rachael enjoyed needlework of all kinds; she was an avid reader of novels and bravely attempted one of her own. Cricket was another love of hers and Rachael was the source of the latest scores to her bosses on the works as she listened to matches on the radio at her bench.

When Carlton Ware went into receivership in 1989, two years after it was bought by County Potteries, the talented decorator moved to work at Minton's as a freehand paintress.

Rachael was a quiet, refined and private person. She loved to be smart and owned 32 pairs of shoes! Her weekly bunch of flowers, always brought her joy, especially pink carnations.

Over the past five years Rachael suffered from Alzheimer's; she died peacefully but unexpectedly. She will be sadly missed, especially by her sister Gladys to whom she was particularly close. She leaves us many finely decorated pieces of Carlton Ware for which we are ever grateful.
Please Scroll down.

---
Thursday 4 September 2008
Irene Pemberton
1911-2008
Designer
A short biography by Harvey Pettit
Irene Pemberton was born in Tunstall in 1911, one of five children, four girls, and a boy, to Thomas Henry Pemberton and Alice neé Smith. Both parents were artistic, her father a professional photographer and amateur painter, her mother a singer with a fine soprano voice and an expert needlewoman.

Photography was a thriving business during the first half of the twentieth century and Thomas enjoyed very prosperous times, although inevitably his business suffered when he was called up in the First World War. Irene recalls family life revolving around her father's shop and studio, through which most of those involved with the artistic side of the town passed.

With such an artistic connections it is no surprise that Rene attended the Burslem College of Art, which stood her in good stead for her future. In 1938 Cuthbert Wiltshaw began to look for a replacement for designer Violet Elmer, who was leaving to marry. He placed an advertisement in the local paper to which Miss Pemberton replied. After interviews, she was offered the post, and in the Summer of that year began at Copeland Street.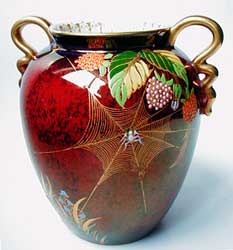 In 1941 Irene married Harry Griffiths, a policeman and well-known local footballer. Being of an old-fashioned nature, he was not happy to have a working wife. Irene, however, continued to work for Carlton Ware.

Irene introduced many new designs up to 1942 when she left the pottery, shortly before the birth of her son John. She did, however, return after the war, working part time, but left again in 1949.

Her most successful pattern was SPIDER'S WEB, which remained in production long after she left.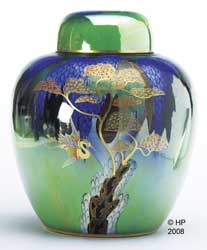 Today, perhaps, her most sought after creation is Heron & Magical Tree, which was one of her first designs for Carlton Ware. Had there been no World War Two, which began a year after Irene's appointment, and which soon limited and then curtailed production, the talented designer would have had the opportunity to introduce many more striking patterns.

After leaving Carlton Ware, Irene helped her brother Duncan and sister Marjorie with a small pottery they had set up in Fenton. In 1952 she gave birth to Elizabeth, who was to follow in her mother's creative footsteps. Liz is presently head designer for Missoni, the Italian fashion house.

Later in her life, Irene bought a small kiln for use at home and decorated pots that were bought in as blanks from various potteries in the locality, subsequently selling them to small retailers.

Rene was a loving mother and unselfish in all she did. She lost her husband in 1981, after caring for him though a long illness. In 1999 she moved to Somerset to live with her son John. She died at Penlee Nursing Home, Weston Super Mare on the 20th April 2008 at the age of 96. Thankfully, her work survives in the many items of Carlton Ware that are much admired today.
© Harvey Pettit 2008.
This short biography is provided by The Cochrane & Pettit Archive of Carlton Ware and is based on interviews by Harvey Pettit and Peter Cochrane with Rene Pemberton in the 1980s. Thanks must also go to John and Elizabeth Griffiths, Irene's two children, for recollections of their mother. ❑
---
Jess Bradshaw
1916-2008
Head Dipper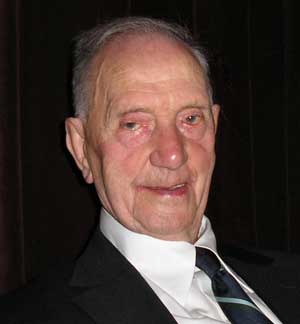 With great sadness, we report that Jess Bradshaw died on the 19th February at the age of 92, following a long illness.

Jess joined Carlton Ware in 1932 to work in the dipping house. It was here that he met his wife Lily, who was a sponger at the pottery.

In 1939 Jess joined the army, soon to become a corporal. After the war, Jess returned to Copeland Street and became head dipper, as well as shop Steward, eventually becoming a senior official in the Pottery Workers Union.

It is extraordinary to realise that Jess will have glazed many of our pots, and his knowledge on this highly skilled craft, that involved making glazes, was unsurpassed.

Jess retired from Carlton Ware in 1987, after working at Copeland Street for 55 years.

He and Lily attended many of the annual Carlton Ware club get-togethers in Stoke and were always highly entertaining, amusing us with many recollections of times at the Pottery.

For more than thirty years Jess collected a huge amount of money for the Friendly Local Children's' Hospital Welfare League, which he helped set up, beginning in a small way by distributing large 1 gallon whisky bottles to pubs and clubs in Stoke-on-Trent, in which sixpences were collected. It was not long before Jess became known as Mr. Sixpence by the staff at the local hospitals and childrens' homes.

Jess lost his wife Lily in 2001 and leaves his daughter Christine and grandchildren, Andrew, Marie, Karen and Matthew, and four great grandchildren. We would like to thank Andrew Meyrick for providing this recent picture of Jess.

Carlton Ware World was represented at his funeral by Harvey and Helen; his family wish to thank the club for condolences. Jess will be missed, not least by many club members. ❑ Harvey