CHINALAND
Introduced in 1925, Enoch Boulton's CHINALAND was one of the most elaborate Carlton Ware patterns.
The decoration was so detailed that a bowl could take two days to paint.
Freehand Painted Background
The defining element of CHINALAND is the elaborate freehand painted background against which one or more of the features from various printed Chinoiserie patterns were placed.
This backdrop is a fantasy landscape of snow-capped mountains, running down into a foreground of ice blue seas.
Read More

The freehand painted mountains and seas are underglaze painted. As a foil to the snow capped peaks, Boulton chooses to use a contrasting sky painted in one of five colours. Factory pattern records tell us these are:

ORANGE lustre 2948;
BLUE 3014;
RUBY LUSTRE 3015;
stippled ORANGE lustre 3118;
GREEN 3895.

Read Less
It seems likely that the ranges of peaks were inspired by popular images of Japan's Mount Fuji, the archetype of a snow-capped volcano.

Artistic license may have been taken with geography, but clearly, the pattern name plays on the different meanings of words china and China.
The Elements
CHINALAND is a cleverly composed design because it utilises all or parts of other patterns. This saved the considerable expense of commissioning new copperplate engravings that usually had to be made for every new printed pattern. Elements from TEMPLE, NEW MIKADO and CHINESE TEA GARDEN were employed. Which one or ones used must have been dictated by the size and shape of the item to be decorated and possibly by the whim of the missus (decorating manageress), or transferer.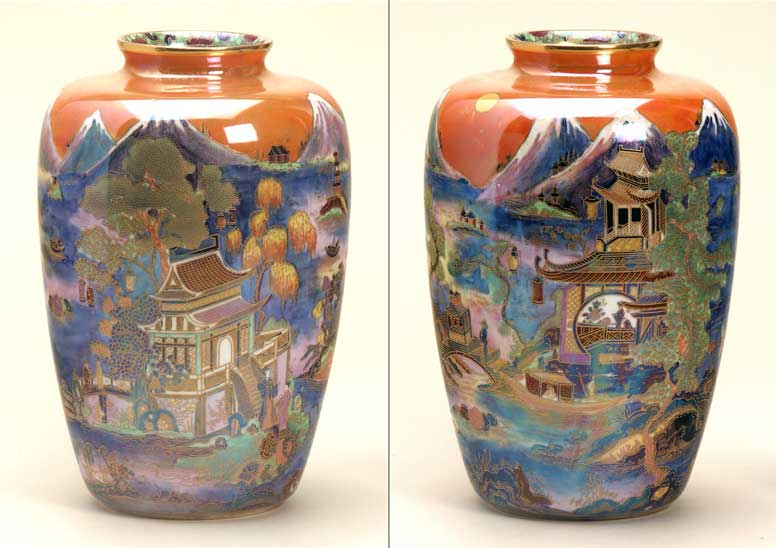 New Prints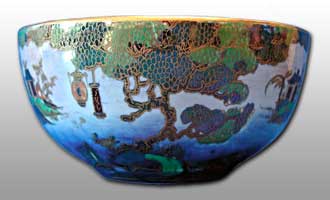 New printed scenes, however, were made for CHINALAND to be used on some shapes, namely the elaborate GONDOLA and OXFORD and other bowls. Usually, the new prints were applied to the outsides.
I suggest that these new tableaux were designed specifically for the GONDOLA shape, which appears to have been introduced at the same time. The new scenes, four in total, fit perfectly onto the form, as illustrated below. Each was flanked by what was called CHINALAND TREE, shown right on the outside of a small bowl.
New Scene 1
The scene on the GONDOLA above depicts two geishas and a monkey in front of a screen decorated with Chinese symbols. In this example, the skies are a pale blue lustre.
---
New Scene 2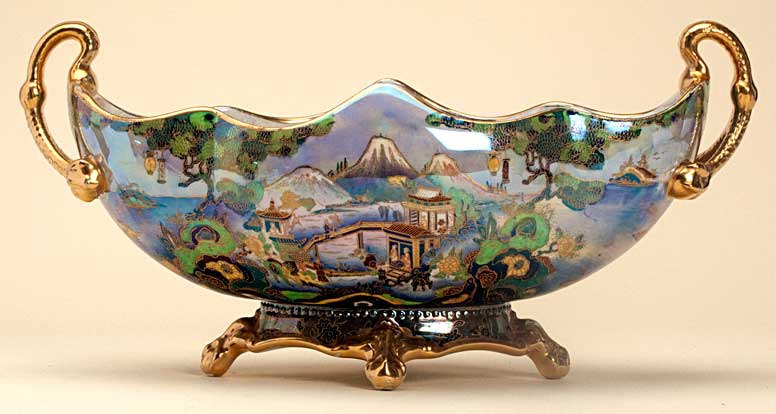 Above, the other face of this GONDOLA depicts three pavilions linked by walkways all populated with figures.
---
New Scene 3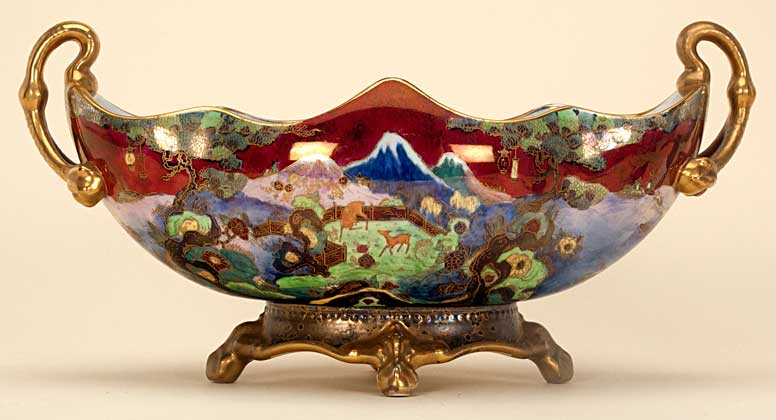 The scene above depicts two Chinese water deer inside an enclosure, this GONDOLA having a ruby lustre sky.
---
New Scene 4
In the centre of this scene, a tiny boat floats between two pavilions, this GONDOLA having an orange lustre sky.
---
Green
TEA GARDEN
The version of CHINALAND with green skies, pattern number 3895, was a much later introduction and dates from the latter part of the 1930s. The image below shows the inside of a CONE shape bowl, which utilises part of the CHINESE TEA GARDEN pattern.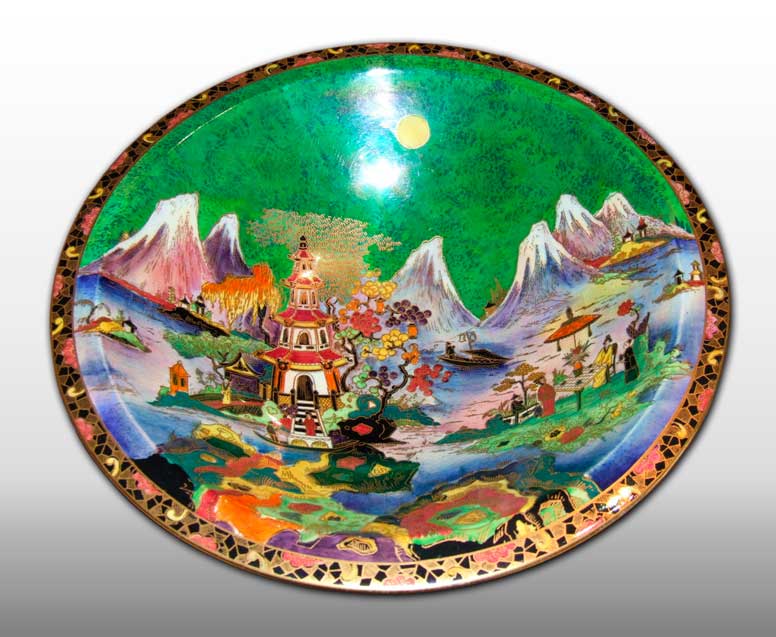 Crowning Glory
A final addition to CHINALAND was the use of a printed roundel for the centres of bowls. That shown on the right is from a GONDOLA.
These adornments were also used on lids or covers to vases. They were painted in underglaze colours, onglaze colours and lustres, all overprinted in 22-carat gold.
The roundel features a mixture of Chinese symbols of good fortune, Buddhist symbols and stylised Chinese characters.
Below are some more examples of its use.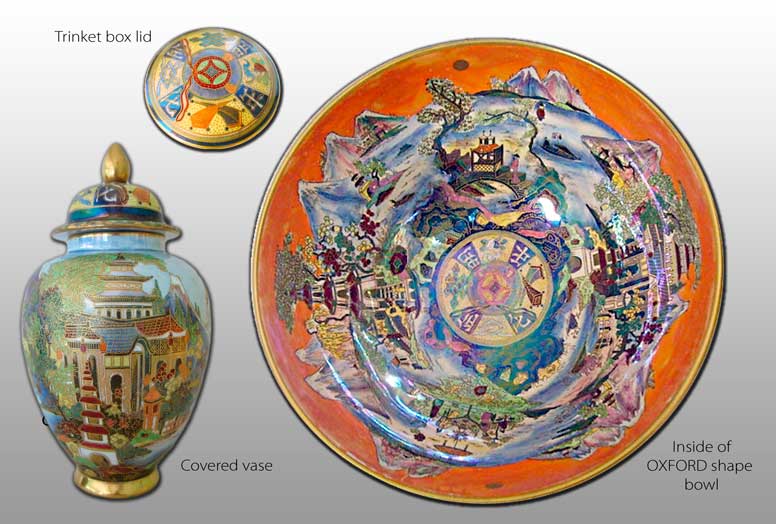 Backstamps
CHINALAND was the only pattern that had a decorated backstamp and reprinted in gold as shown below. Occasionally, an example is found not only with the decorated crown mark but also with the pattern name in a ribbon. The pattern was still available, as a special order, into the 1960s and on these later examples, a script mark is found printed in black.
Easy Peasy
Without doubt, Carlton Ware's Chinoiserie patterns were its most popular and enduring. With all of their colour variations there are many hundreds. Along with their use on many different shapes, they can be the most difficult to identify. It is not always easy to differentiate between the exotic buildings and other features in these Oriental fantasies, although all are quite different. Paradoxically, CHINALAND is the easiest of all to detect.
I wonder if Enoch Boulton, or indeed Horace Wain, his predecessor, visited the Chinese Gardens at Biddolf Grange, which were created by James and Maria Bateman in the second half of the 19th century. Now owned by the National Trust, who has restored much of the house and gardens, it is well worth a visit. ❑
© Harvey Pettit 2018