The purpose of this article is to pay tribute to all of those killed, injured or badly affected by World War I and the sacrifices that they made.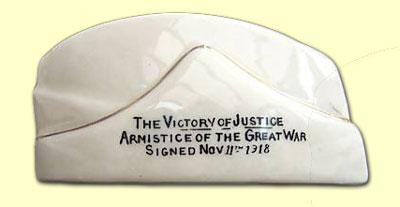 On Nov. 11, 1918, fighting in World War I ended following the signing of an armistice between the Allies and Germany that called for a ceasefire effective at 11 am – it was on the 11th hour of the 11th day of the 11th month.

Carlton Ware commemorated the Armistice on some of its Heraldic China related to the war. One example is a model of a field service cap shown on the left.
One of the most impressive tributes to those lost in war was the installation
Blood Swept Lands & Seas of Red
staged in the moat of the Tower of London in 2014. The artwork marked the centenary of the outbreak of the First World War. It comprised 888,246 ceramic poppies, one for every British or colonial life lost at the front, many made in Stoke-on-Trent. In all, an estimated five million people saw the memorial.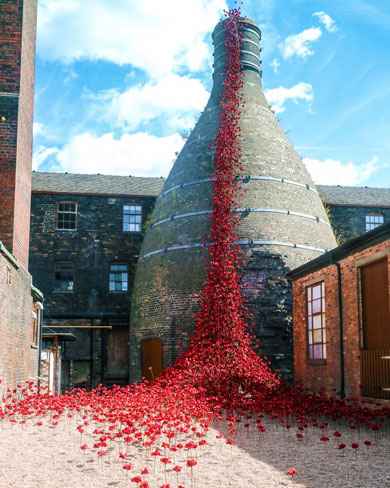 Beginning in September 2015, two segments of the installation,
The Wave
and
Weeping Window
toured the UK visiting nineteen different locations. The last for
Weeping Window
was at Middleport Pottery during August and September this year. We visited the Pottery in 2014 and held our Annual Get-together there in 2015.

Ceramic artist Paul Cummins and stage designer Tom Piper, who devised the installation, unveiled
Weeping Window
at Middleport on the 2nd August. The picture on the right shows the completed artwork in position cascading from the chimney of a bottle oven.
Weeping Window
is now at Imperial War Museum in London and
The Wave
at the Imperial War Museum North in Manchester.

Throughout 2014, to commemorate the 100th Anniversary of the start of World War I, Carlton Ware World featured 12 monthly articles on Carlton Heraldic China relating to the conflict. Click on, or touch the button below to have a peek.