You can also view our gallery of Monogrammed Ware by clicking here.
---
Elizabeth Mary Watt & Carlton Ware
Harvey Pettit, our webmaster, makes some observations
In 2009 the Carlton Ware ginger jar on the left was spotted at Bonhams, Edinburgh. It was decorated by Elizabeth Mary Watt (1885-1954), an artist and craftswoman whose watercolours and ceramics are highly valued in her native Scotland.

The artist usually bought in plain wares from potteries in Scotland, or, occasionally, England and decorated them in her studio and then had them fired in the locality. Often pieces are unsigned, or signed only with initials, many of which have yet to be identified.

The ginger jar here is the first I have come across that is singed Elizabeth Mary Watt, as well as carrying the Carlton Ware Script mark, now confirming that Carlton Ware supplied this talented artist with blanks.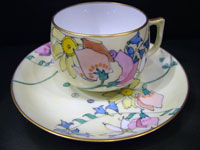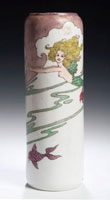 Elizabeth Mary Watt studied at the Glasgow School of Art 1906-17 and later made her living as a commercial pottery painter, until she died in 1954. Two more examples of her work are shown on the right, although the blanks for these were not from Copeland Street.

She was among the generation of painters of Scottish pottery that flourished from the beginning of the 20th century until World War II. Her pots have an affinity with the Art Nouveau style.
Helen Martin happened to be Edinburgh when we were alerted to this find and viewed it for Carlton Ware World. The ginger jar and cover appeared to be perfect except for oxidisation to the some of the colours. Helen was told that the artist is believed to have had her pots fired in Kirkcaldy, Bo'ness and possibly at Maling in Newcastle upon Tyne.

The artist's signature was on the base above the Carlton Ware Script mark. The inside of the lid to the jar was monogrammed and Helen took a picture for us, which is shown on the right.
At a Carlton Ware World meeting in Salisbury in 2005, hosted by Woolley & Wallis, Nicolas Pine brought along the vase shown on the left. Although this was backstamped Carlton Ware, I was convinced that it was not decorated at Copeland Street, since the style of the decoration was very different to that created by the Carlton Ware designers. In addition, the palette of colours is not that used on the works. It would be sensible to attribute this vase to Elizabeth Mary Watt.

Notice that the palette of colours is the same, or similar, to the other pots shown in this article. Bonhams describes the decoration on the ginger jar as painted with a running frieze of fairies and imps against a landscape. The same description could be applied to Nicholas Pine's vase but, on this occasion at night.

Clearly, the artist was impressed by the quality of the blanks that Carlton Ware offered, as well as the shapes available.

No doubt more of Miss Watt's work on Carlton Ware blanks will surface; I am sure I have an example in a box somewhere! If you think you have an example send me a picture - simply email by © Copyright Harvey Pettit 2008.

I would like to thank Colin Scott-Sutherland and Amanda Mayer Stinchecum for information provided here. Also, thank you to Bonhams for pictures, and of course Helen for viewing the sale for us and providing an image of the monogram.
Send us your Monogrammed Carlton Ware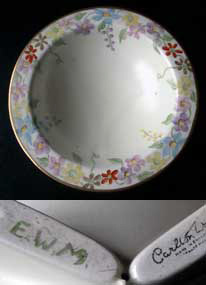 After we featured the ginger jar signed and monogrammed EMW by the artist, Carole, our events organiser, sent in a picture of a Carlton Ware conical bon-bon that is likely to have been supplied to another artist decorator as a blank.

In this case the monogram is EWM (not EMW). Presently we do not know who this is, or where it was decorated. Do you have a piece of Carlton Ware similarly initialed? If so, do send us a picture.

These pieces, which are usually freehand painted, have been a mystery to us and a matter of much conjecture, but we think we are close to an answer, which your pictures may help confirm.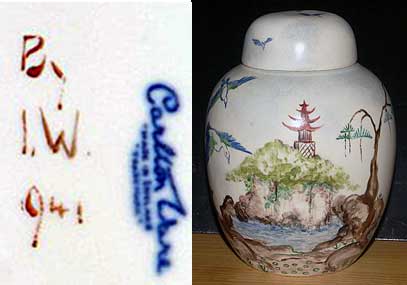 We publish pictures with monograms in the hope that one of the artists may see them and shed more light on the pedigree of these interesting wares. Email your pictures simply by


On the right is one addition. Thank you David for taking the time to send us a picture of your monogrammed ginger jar, which appears to be marked "By IW 1941". Especially interesting here is what looks like the year of decoration.

To view the gallery of pictures of monogrammed ware sent in click here.
---