Carlton Heraldic China relating to World War One
December 2014
---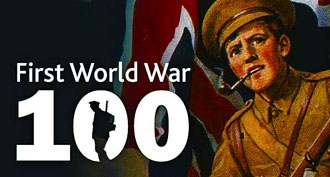 Throughout 2014, to commemorate the 100th Anniversary of the start of World War One, Carlton Ware World featured 12 monthly articles on Carlton Heraldic China relating to the conflict. You can view these from links below.
These articles present the most comprehensive review of war related Carlton Heraldic China ever produced. In total, the twelve articles show 59 different models.
I am particularly grateful for the help given to me in two books on Heraldic China. The first is Crested China - the History of Heraldic Souvenir Ware by Mrs. Sandy Andrews, published in 1980, an extraordinary body of work. The second is Take me back to Dear Old Blighty by Robert Southall, published in 1982. Harvey Pettit - January 2015.

Part 1
Men in the Military.

Soldier, 3 models of Scottish Soldiers, Old Bill, Shrapnel Villa, Sailor.
Part 2
The role that women played.

Munitions Worker, Nurse.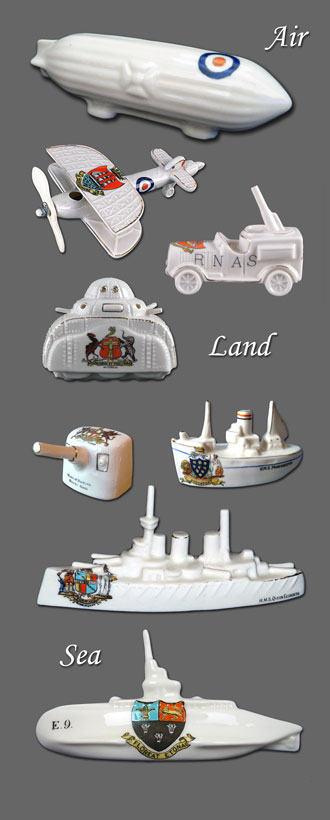 Part 3
Weapons of war.
Models of Shells, 'French 75' field gun, 6" Howitzer, British Trench Mortar, British Machine Gun, British Naval Gun, Hand grenade.
Part 4
Battleships.
Indefatigable Class of battlecruiser, Torpedo boat, Iron Duke Class battleship, Lion Class battleship, Cressy Class battleship, unidentified battleship.
Part 5
Other ships.
RMS Lusitania, HMHS Anglia, Floating Mine, HMS Minesweeper, British Monitor.
Part 6
Submarines.

E class submarine, German U-Boat, C Class coastal submarine.
Part 7
Tanks.

British Mark I tank, British Mark IV tank, Smaller British Mark IV tank, Mark IV tank money bank, HM Whippet Tank, Fiat 2000 tank, Vickers Mark I tank.
Part 8
Armoured vehicles.
British Anti Aircraft Motor, Armoured Car, Rolls Royce Armoured Car.
Part 9
Aeroplanes.
Monoplane based on the Blériot XI, Monoplane with circular fuselage, Biplane.
Part 10
Airships.
Zeppelin, German Incendiary Bomb, British Searchlight - The Zeppelin Finder, British Airship.
Part 11
Military Caps & Hats.
Glengarry Cap, Field Service Cap, Service Dress Cap, Slouch Hat, Campaign Hat, Balmoral Bonnet.
Part 12
Miscellaneous.
Kitchen ranges - 4 types, Blighty, Kitbag.
Part 13
Memorials.
Brighton, Clacton-on-Sea, Douglas, London Cenotaph, Tonbridge Wells.