---
Below are selected articles published on this site between January & June 2013. We hope you will find some of interest.
Articles here have been moved from the Recent Articles page and are in reverse chronological order.
---
"Votes for Women" - Emily Davison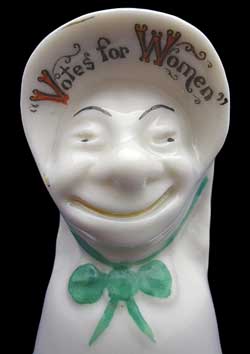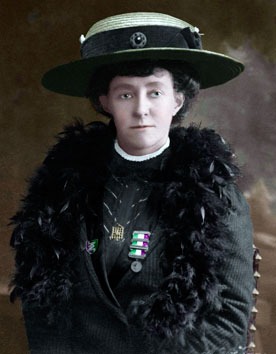 One hundred years ago Emily Davison died after throwing herself under the King's horse at The Derby. Campaigning for the Suffragettes, she had been jailed on nine occasions and and force-fed forty-nine times.

New Zealand and Australia, then both self governing British Colonies, granted women the vote in 1893 and 1895 respectively. Women in the UK had to wait until 1918 and then with limitations.

Some of the Suffragettes' campaigns were grounds for comedy, though clearly not the death of Miss Davison. Carlton Ware produced the amusing bell shown here. Its date of introduction is thought to be about 1910.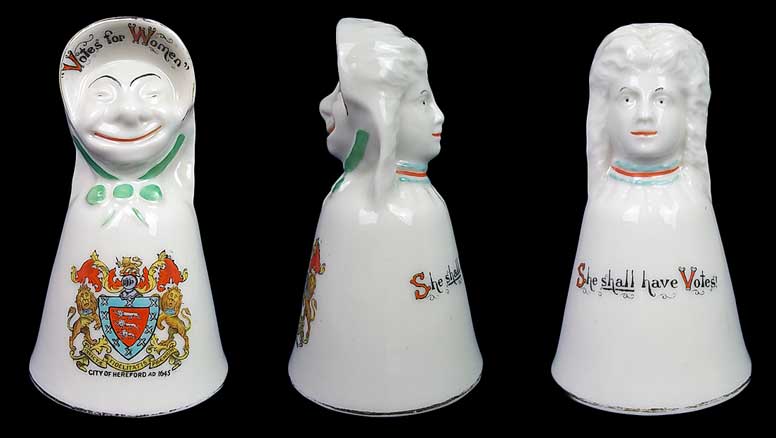 Current thinking suggests that Miss Davison did not throw herself under Anmer, the King's horse, but was attempting to attach a "Votes for Women" scarf to its bridle. Members of Parliament are campaigning for a statue of the brave woman to be placed inside the Palace of Westminster. ❑ © Harvey Pettit 2013.

Scroll down for other articles.
---
£2,500 FAIRY tale
The Antiques Trades Gazette reported on a recent sale at Louis Taylor, Hanley, Stoke on Trent. The magazine remarked.

The surprise package on the second day of this March 11-12 sale was provided by a 6in (15cm) Carlton Ware lustre vase decorated in the Art Deco style with a gossamer-winged fairy. It created much interest and the hammer fell at £2500 - a price many times the £100-150 estimate and somewhat reminiscent of the market peak in the late 1990s....

Three variants of FAIRY are listed in factory pattern records, a complex blue/pink ground 3564, a complex lustrous orange ground 3576 and a POWDER BLUE ground 3578.

The variant with the orange ground was chosen for the jacket of Cast Aside the Shadows, recently published by Barry & Elaine Girling, which focuses on the work of Violet Elmer. For a review, see one of our many Past Articles pages. ❑
Scroll down for other articles.
---
Mrs. T
- Margaret Thatcher 1925-2013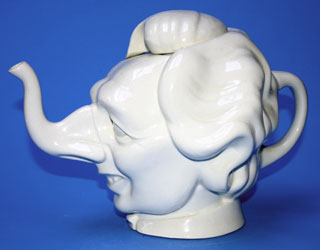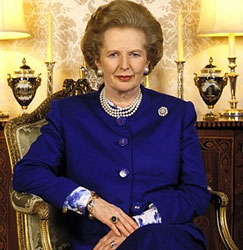 Few prime ministers have caused such polarized reactions on death. Like her, or loath her, Margaret Thatcher's influence on the second half of the twentieth century, here and abroad, was considerable.

Her resolute character and conviction led to inevitable caricature, the most memorable being that from Spitting Image, the British satirical puppet show. The puppets for the series were designed by Peter Fluck and Roger Law, who also made pots of their subjects.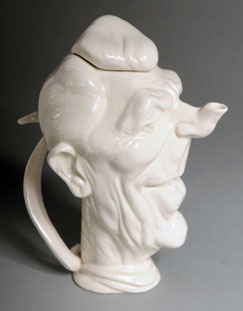 Some of these were made for the two budding potters by Carlton Ware and their Mrs.T teapot is shown above. They Sponerised their name to Luck & Flaw for these productions. Carlton Ware also made a companion Ronald Reagan coffee pot for them. The Royal family did not escape the treatment, as you can just about see in the advertisement on the right.

In the 1980s, I came across Mrs.Thatcher quite often. Her Chelsea home was next door to Antiquarius, a well-known Antiques market in the Kings Road, where as a young man I sold Art Deco ceramics. Her front garden was frequently used for photo opportunities with her political associates but I never thought much of it at the time, little realizing the impact she would eventually make.

Due to a series of small strokes, in the last years of her life, Baroness Thatcher suffered vascular dementia. She became patron of the Alzheimer's Research UK charity in 2001.
The well-known BBC journalist, Robert Peston, recently commented "We still define ourselves by whether we were for or against her." Through her Party's legislation and her legacy, her influence is still with us today.
© Harvey Pettit 2013 ❑
Scroll down for other articles.
---
Flash Back
Zig-zag to Ziggy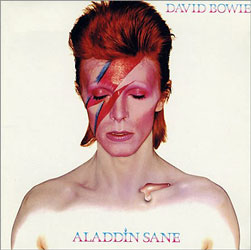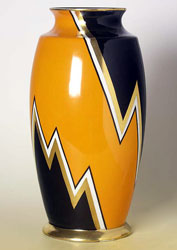 Here in London an exhibition featuring the life of David Bowe has just opened at the V&A. One of the most enduring and arresting images from his career is that from the album sleeve for Aladdin Sane.

The flash, as used on Bowie's face, is a motif that is very much associated with Art Deco and it was used widely during that period, symbolizing modernity and energy, no doubt because of its association with electricity.

Few potteries were adventurous enough to incorporate it into its designs but as we see on the right Carlton Ware was one such with its Lightning pattern. Attributed to Violet Elmer and part of the Handcraft range, it was a freehand decoration so its appearance can differ considerably depending on the shape to which it was applied.


Two years earlier Miss Elmer had devised an equally striking Handcraft pattern, which we call Zig-zag. One of its variants employed a vivid blue ground using matt glazes.

The zig-zag was employed on the plumage of one of the three birds found in Carlton Ware's Humming Birds pattern, three different decorations of this exotic raised enameled bird are shown below. ❑
---
Figuring out the Spilled Milk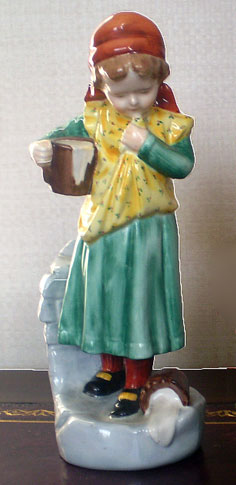 We were delighted to have been sent these pictures of two unusual china figures nicknamed Jill. It looks as though the child alludes to the saying No need crying over spilled milk as with a spilt pail at her feet she raises the corner of her shawl to her eyes.

Clearly, they are from the same mould but the one on the left is backstamped Birks Rawlins and that on the right Carlton China.

The reason they have different marks is that in 1928 Carlton Ware bought the nearby Vine Pottery of Birks Rawlins in order to offer bone china tea and coffee ware to its customers. The purchase must have included the moulds to make the Birks figure and thus Carlton China versions were produced, though less elaborately decorated. The rarity of the figures, especially the Carlton China version suggests that they were made in small numbers. This could be explained by Carlton Ware's bank forcing the sale of the Vine Pottery in the early 1930s as the country entered the depression. ❑

© Harvey Pettit 2013. Pictures © Eileen Finch 2013
Scroll down for other articles.
---
Fakes During 2012 - as usual they are mostly Guinness
It's been a while since we have written about fakes so it is time to review what the unscrupulous have been up to. As far as we can make out, fake Carlton Ware continued to be produced in 2012, though perhaps in smaller quantities. Part of the reason for this will be because of sites like this, which expose the deceitful ware, making potential buyers aware that they can be easily duped.

The commonest fakes pretend to have been made for Guinness. Aside from the John Gilroy Zoo Series fakes made from original moulds taken from the pottery during its liquidation in 1989, most Carlton Ware Guinness fakes use shapes never made by Carlton Ware.
Many have a white body onto which Guinness slogans are printed, much like the fake clock below.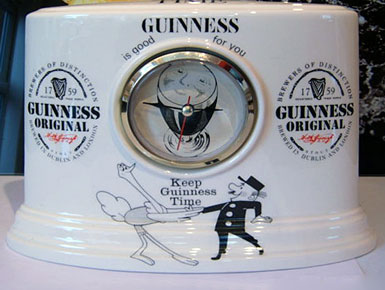 We noticed this clock for the first time in 2012. The body of the clock is not recognised by us. It could have been made specially for the application of the fake Guinness adverts or bought in from a legitimate maker. The faker has gone to some trouble to have many lithographs of Guinness adverts and slogans made, including the lithograph of a gold Guinness bottle label. This suggests that the "enterprise" in on some scale. ❑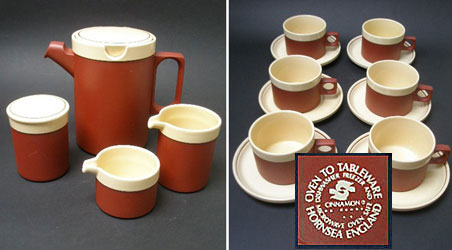 The fake below is a good example of the faker taking old pottery by another maker in an attempt to convince an unsuspecting buyer that it is a genuine Carlton/Guinness collaboration. In this case the maker is Hornsea Pottery, which went into receivership in 2000, alas.

On the right, or below if you are viewing on a smartphone, we show some of Hornsea's beautiful coffee ware from their Terra Sigillata range designed by Martin Hunt and introduced in 1982. The image is courtesy of the Victoria & Albert Museum, who have examples in their collection. Some of this was made exclusively for Harrod's department store.

Below you can see what the faker has done to a teapot from this range.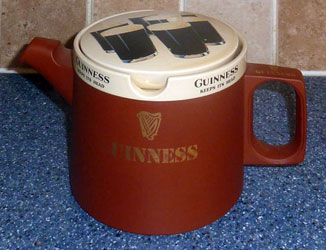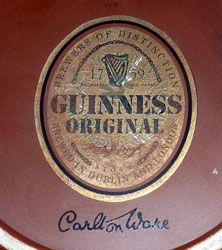 The faker can only have ruined a piece of classic 1980s design in an attempt to "add value".

The Hornsea backstamp, shown in the inset on the picture above, has been covered over by the faker's Guinness bottle label lithograph, though if you look closely you can detect it beneath.

We wonder what other makes of pottery will be disguised to catch people out? ❑


© Harvey Pettit 2013
To see many more Carlton Ware/Guinness fakes click here.
---
Articles here have been moved from the Recent Articles & Announcements page and are in reverse chronological order.
---