PRESENTATION BOXES
---
Pefect Presentation...
Carlton Ware, as did other potteries, offered their more expensive wares in silk lined presentation boxes. Coffee sets were sometimes sold in this way, as on the right, adding to their desirability and expense.

The earliest known silk lined box for Carlton Ware was made for the cruet shown below. It has Sterling silver mounts with a hallmark for 1923.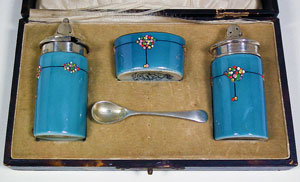 The retailers name and address was often printed in gold to the silk that lined the lid indicating that it was a special order item for the more prestigious shop or store.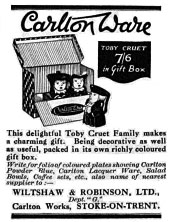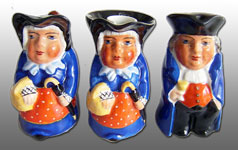 Today, we are so used to finding so many things in gift boxes but in the 1920s, as far as the pottery world was concerned, this was unusual. Carlton Ware appears to have been one of the first Staffordshire potteries to present their wares in gift boxes made from printed cardboard. This was a clever move, for not only did they look attractive but also gave protection during transit, especially when there was more than one item.

To date, the first known gift box used by Carlton Ware was for the TOBY cruet, which was introduced in 1926. An advertisement from c.1928 is shown on the left. Few boxes survive, I have seen only one and as the advertisement says it was richly coloured, as was its contents. The price of the cruet was 7 shillings six pence (32p) and at that time a typical pottery worker earned about £1 15 shillings (£1.75p) a week.
Many more boxed sets were to follow as Carlton Ware extended its increasingly popular fruit and floral embossed wares. Like the box for TOBY cruet, these were made from cardboard and had attractive lids. They were especially suitable for the small jam or butter dishes with a spoon or knife.

In the illustration above, the two box tops on the right, which say from England, appear to have been made for the overseas market. Notice the contents are named on their lids and that the illustration relates to the design, RASPBERRY and DAISY respectively. The box on the left was used for a wide range of items and the contents were indicated by a rubber stamped name on the base.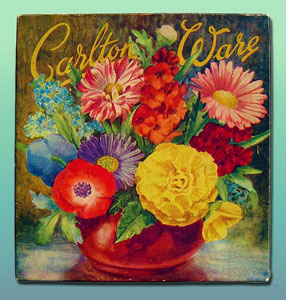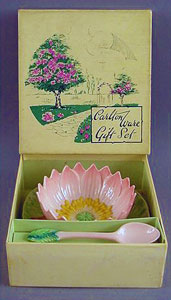 The use of gift boxes must have proved highly successful because a full colour version was then introduced, shown left. This continued to be used well into the 1950s and possibly beyond. As with the box top above this was used for many ranges.

One wonders if the art work for all lids was done by Violet Elmer?

Larger boxes were also used to fit various other items. Some were covered in faux shagreen, embossed silver foil, as well as abstract patterns. This suggests that Carlton Ware might have used several suppliers.
Whatever the contents if the item was being given as a present, the recipient can only have been pleased to see what lay inside. Let's open some...
Large orders, especially to overseas retailers, were sent in barrels or tea boxes with ware packed in straw.
Packing properly was a highly skilled occupation.

Corrugated Cardboard Boxes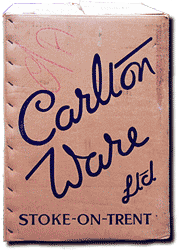 In more recent times, the lighter and much more convenient cardboard boxes were used. We take these so much for granted today. The corrugated cardboard from which they were made was invented in the 1890s by Scottish born Robert Gair in America but it was some time before this new laminated material was trusted and it probably wasn't until the 1920s that their use took off and that they were made on any scale. Pottery and glass makers may have been among the first to make use of them.

We don't know when CW began to use the corrugated box but it is likely to have been in the 1930s, at the earliest. Not surprisingly, few survive though one is shown on the left, which Terry Wise discovered recently and is in extraordinarily good condition. I know of only two others less so. The label on it tells us that it had been sent by rail in 1967.

Who would have thought that there was so much to say about the now common or garden box!

© Harvey Pettit 2013. Revised Dec 2021.