Carlton Ware World Visit to Torquay July 2011.
---
Angela recalls the weekend.

The weekend started with a trip to the Westpoint Antique Fair at Exeter. Although we didn't make the fair we enjoyed sharing its delights by drooling over the bargains bought by those who did. After that we all met up at Reg and Denise Burningham's house near Newton Abbot. We were given a warm welcome and a delicious afternoon tea. What a beautiful collection we saw, Tony was green with envy and Carole suffered from a bout of 'dropsy,' but that's another story. My favourite part was the walnut cake, then the chocolate cake.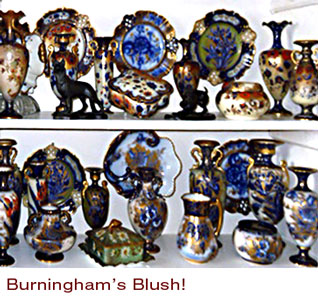 As some of you know I am the wife of a mad Carlton Ware Collector, not a collector as such, or am I? Joking apart, Denise and Reg have a beautiful farm house, a very lovely German Shepherd dog and an amazing collection of pottery, some of which we all had an opportunity to buy. The day ended with everyone meeting up and having dinner at a local Chinese restaurant. On Saturday morning we had another treat in store. We were invited by Arthur to his seaside Victorian town house to view his collection and to join him for a superb lunch. Arthur's collection of Medley is absolutely outstanding, possibly the most extensive collection there is, but it would have been even bigger had he not misread the assembly instructions for the Ikea Detolf display cabinet... (ouch). Arthur made us all very welcome.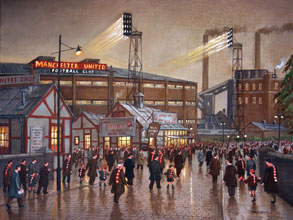 Tony and Arthur have another obsession they share other than pottery and that is Manchester United. We hope to see Arthur this season back at the Theatre of Dreams. Arthur recently told us he hadn't seen a live game at Old Trafford for over 50 years now that is dedication, to follow a team without seeing them live for so long (it's in the blood). Later that day we all had a fantastic Italian Dinner (I will need to go on a serious diet if we have many more CWW trips). The weekend ended for us as we drove home on Monday morning and back to reality.
We would like to say a big 'Thank you ' to Arthur, Denise and Reg for their hospitality and to the double act which is Sara and Carole for organising the weekend. See you all in September in The Potteries.

Angela Wood July 2011