An Offbeat Review
of our Sunday events
at our meeting in
Stoke-on-Trent, October 2009
by Tony Wood.
---

Wow – We are holding our meeting in Josiah Wedgwood's drawing room, and on the 250th Anniversary of the founding of Wedgwood. Ghosts and atmosphere aplenty! Around the room were the fakes tables (very useful), displays of original Carlton documents, raffle prizes, a display of Mike Maunder's Blush Ware, as well as members' items for sale, dominated by a large number of superb Deco pieces owned by Peter Gay.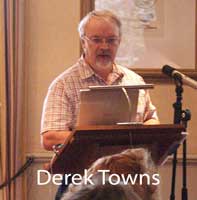 Derek Towns kicked off the morning to talk about Carlton China. Derek showed some slides of china which could only be described as delicate and beautiful. This was a period in the history of Carlton Ware when a confusing array of new but briefly active maker's names came into our lexicon. Because of the lack of written archives a good deal of the detail of who did what to whom, when, why, with what and the order in which they did it is lost in the mists, which really defines what is fascinating about collecting Carlton Ware. Derek is an addict – sorry Derek, but you are. I really do mean this in a friendly way, because I am afflicted myself and I know the signs.
Mike Maunder followed after Derek. Mike gave a slick presentation about collecting Carlton Blush Ware which, (although Blush isn't my bag) I enjoyed it greatly. The only problem was that I found myself ticking mental "me too" boxes as Mike described how he had first bought one piece to display in his kitchen and then became grabbed by the tentacles of an addiction as strong as Opium.

He talked about going on eBay and ending up buying lots and lots of Blush, getting out of bed to bid at 3 in the morning, having eBay on his computer 24/7 and so on – been there, done that too, Mike. Still, I now know that I am not out there alone in the wee small hours of the morning, hearing the first birds clear their throats and strike up with the chirping.

Mike is out there too (a brother in arms), hunched over the gleam of the screen with his eyes out on stalks, bags under them like biceps. Mike now has about 800 pieces of Blush ware. Never mind Mike, I'm sure you nearly have them all now.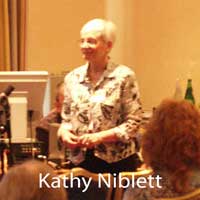 Kathy Niblett was our final speaker of the morning. Kathy was billed as a "local ceramics expert". You must be blooming joking! She wasn't an expert, she knew absolutely everything! She didn't look it, but she must have been 250 years old to have been able to absorb all that detailed knowledge of Wedgwood in particular and the Stoke potteries in general.

Kathy gave a fantastic talk and could, I am sure, have continued for the rest of the day without notes had time been available. Regrettably, one of the subjects Kathy had to handle, in response to questions from the floor, was the recent sad demise of Wedgwood (these were murky waters indeed).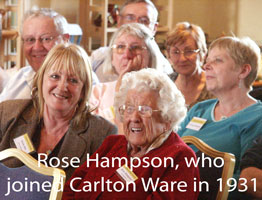 We adjourned at this point for a buffet afterwhich we were joined by a good turnout of ex-Carlton Ware employees, whose service extended all the way back to 1931. What can one say? Their presence illuminated and enlivened proceedings no end. They were certainly helpful in establishing the production methods used in making Carlton Ware, which we discussed in our Identification session.

The exchanges which took place, especially while we watched the promotional film which Carlton Ware had commissioned in the 1950's, were fantastic. It is a pity that we didn't record this session for posterity, because information came to light which might never surface again. Informal discussions after the film provided even more insight into life at Copeland Street. We really must record it next year. Information like this is priceless.
The penultimate event was the much awaited "Carlton Collider". Is Carlton Ware radioactive? The Carlton Ware World Amateur Dramatic Society ran an experiment with pieces of "Uranium glass", luminous clock dials and Carlton Ware (glaze sometimes contained Uranium).

The experiment involved several volunteers, in appropriate protective gear, and a Geiger counter. You bet your life some of it is radioactive! Anybody with large collections of thick orange glaze decorations had better keep it in the shed right at the bottom of the garden from now on, or you could always sell it to me (I will pay up to £2 apiece for the good stuff – generosity is my middle name). What do you mean I have greatly exaggerated the danger in order to panic people into selling their pots to me for personal gain? How could you?

I would like to take this opportunity to thank Harvey Pettit for his sterling efforts as Chairman over the last few years and welcome incoming Chair Heather Goddard to the post. Also I offer thanks to those members of the committee responsible for putting on the AGM and the other interesting events this year. is a task I have had to undertake myself in the past and I know only too well how much work goes in to producing successful events.

Finally, the lovely Vanessa Barnish, Cuthbert Wiltshaw's granddaughter, drew the raffle and despite several committee members asking for their winning tickets to be re-drawn I finished up potless, as usual. Hey ho. Some things never change. Perhaps next year...

Tony Wood