SALAD WARE

3 October 2021
- small edit Jan 2023
Part One
Origins & Development
by Harvey Pettit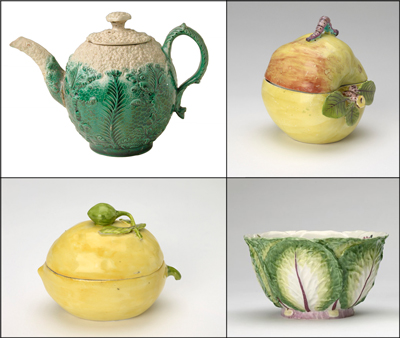 Until this article, little had been published about Carlton Ware's early SALAD WARE, so I hope you find my commentary here informative.

The Pottery used the term SALAD WARE to describe embossed shapes mostly based on leaves, fruits, vegetables and flowers.

Presumably the use of the term stems from tableware intended for serving salads. Over time many other types of embossed wares such as cruets, toast racks, preserves and teaware were introduced but the term SALAD WARE was still used on the works for all to describe them.

There has been a long tradition of using clay to create naturalistic forms. On the right is a selection of wares from around 1760; a cauliflower teapot by Josiah Wedgwood and an apple tureen, melon tureen and a bowl as if formed from cabbage leaves from the Chelsea Porcelain Works.
---
1890
The first Wiltshaw & Robinson (W&R) shape to take on a leaf form was a cucumber tray introduced not long after W&R, makers of Carlton Ware, was formed in 1890.

---
1896
In 1896
, W&R registered the design of a rectangular fluted long tray with a piecrust rim. Its short sides were embossed with realistically painted sticks of celery. A matching tray with embossed tomatoes and leaves was also produced and was available in a smaller size as shown below.

Both trays must have been popular because examples have been found with the Script backstamp that was introduced in 1926, thirty years after they were first made.
---
1909
In 1909
, a footed bowl, as if formed from cabbage leaves, was registered as a design, Rd.No.545,855. A version without the foot was also introduced. The bowls were available in plain white or with the embossed leaf forms painted realistically in shaded greens, as shown below.
Seventeen years later
, in 1926, these crinkle edged shapes were modified to include embossed tomatoes and both revisions were registered as designs. You can see these later in this article.
---
Early 1920s
More embossed vegetables and leaves appeared on a small range that must have been launched in the early 1920s.
For obvious reasons I call this White Salad Ware.

After the untimely death of his father, Fred, in 1918, the young Cuthbert Wiltshaw was now in charge of the Pottery.
He and the newly appointed decorating manager and designer Enoch Boulton had more up-to-date ideas. They chose not to rely on traditional patterns and shapes that Fred Wiltshaw and Boulton's predecessor Horace Wain had favoured or indeed were favoured by the majority of pottery manufacturers. There was a modernity to White Salad Ware.

To my eyes, 100 years after their introduction, this new but small range still looks strikingly contemporary.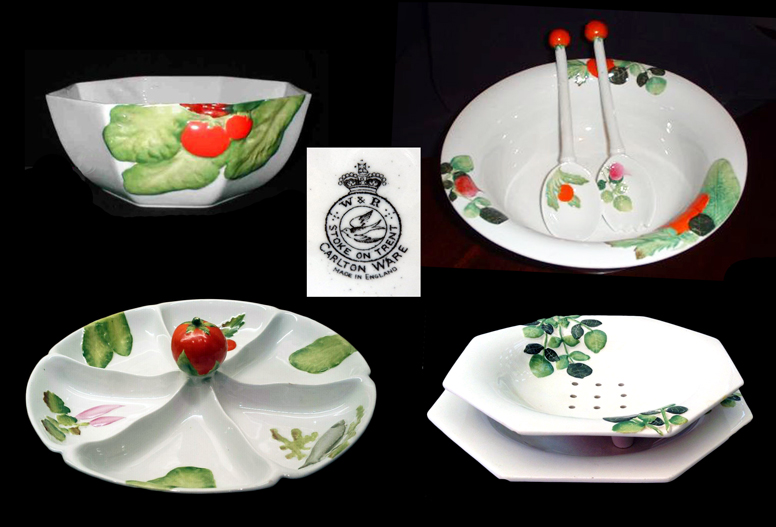 The circular salad bowl and matching servers feature embossed leaves, tomatoes, radishes and a sprig of watercress. The six way hors d'oeuvres tray with the tomato knob also includes a sardine. The salad strainer and base is simply embellished with sprigs of embossed watercress leaves.

These elegant offerings herald the way for the soon to be introduced
LETTUCE & TOMATO
range.
---
1925
In 1925
, the pottery registered designs for a round LOBSTER salad bowl and a
LETTUCE & TOMATO
tray. Both were to become large and popular ranges. The tomatoes on the lettuce leaf shaped tray are as if whole tomatoes, unlike the flattened versions that were to follow on the many subsequent shapes in the range.

The popularity of
LETTUCE & TOMATO
led to the introduction of many more ranges. In the 1930s, with Violet Elmer as designer, ranges based on flowers proliferated. More of these in later articles.
---
1926
1926 appears to have been a watershed year for the pottery
. There was an explosion of registered designs and it was in this year that the pottery registered a trade mark to be used on letter headings, in advertisements and of course as a backstamp. This took the form of what we now call the Script mark.

In the 1980s, I interviewed Cuthbert Wiltshaw's secretary, Olga Mayal, who, in 1926, recalled taking the trade mark to the agent who applied for registration on the pottery's behalf. Olga revealed that the distinctive trade mark was a facsimile of Carlton Ware written in Cuthbert Wiltshaw's hand.

In 1997
, the trade mark was sold to Frank Salmon allowing him to use the Script backstamp on ware made by many other potteries and market what is sometimes called faux or ersatz Carlton Ware. This description distinguishes Mr Salmon's wares from those made at the Copeland Street works between 1890 and 1989, when the pottery closed and eventually converted into workshops and student accommodation.
---
LETTUCE & TOMATO
The LETTUCE & TOMATO leaf shaped tray introduced in 1925 must have been popular because a year later, two salad bowls and a plate were registered as designs. These are shown below.

Over time, many more LETTUCE & TOMATO items were introduced. They included a circular covered butter dish, a crescent tray, a salad strainer, egg sets, a napkin ring, a sauce boat, a toast rack and double and triple trays.

As the success of the range became known to Carlton Ware's competitors, it was copied, especially by Fieldings, makers of Crown Devon. However, they modified Carlton Ware's shapes slightly to avoid infringing any registered designs! Fielding's then registered their versions to stop them from being copied!

It is a moot point that I should include the next item in the range since it is perhaps better categorised as of one of many novelty cruets introduced around the same time but I do so because it sits well within the range.
---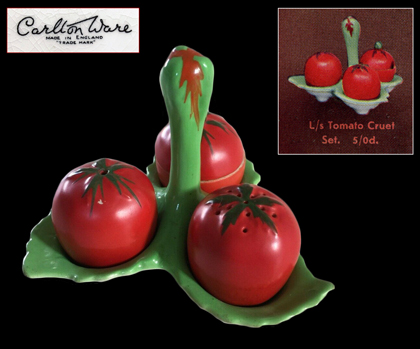 In May 1926
, a cruet with the salt, pepper and mustard in the form of a tomato was registered as a design. This is shown on right. Sales literature tells us that the TOMATO cruet was available in two sizes, though the form of the stand might have been different for the small size. Curiously, to date, four versions of the stand for the cruet have been found.

The inset shows the large size (L/s) cruet as featured in a Lawleys' catalogue from 1930. It was priced at 5 shillings when the average wage was 30 shillings per week (£1.50) for 50 hours of work.

Lawleys had its flagship store in prestigious Regent Street in London's West End. The retailer had branches in many other cities and specialised in top quality ceramics and glass.
---
Towards the end of 1926
, the pottery registered shape designs for a new range that featured embossed fruits and leaves against an orange peel-like surface.

Aside from many other items, tea and coffee ware was included in the range, some of which was based on the MELON tea and coffee ware shapes, also registered as designs earlier in 1926. You can see some teaware examples below.
As you can see from the picture above, different decorations were offered on the new embossed shapes. For a list click on the button below

...
3052 embossed fruits decorated as plums against a mother-of-pearl ground.
3052W as 3052 but without the mother-of-pearl finish.
3052A as 3052 but blue lustre ground.
In another variation the fruits were decorated as if oranges set against a mother-of-pearl ground. I do not have a pattern number to give you.
Originally
, in Carlton Ware's pattern records, the range was called ORANGE WARE, which would explain the orange peel like surface, though today it is confusing to call it this because of the alternative plum-like decoration.

In addition, not long after this attractive range was introduced Carlton Ware launched its JAFFA range, shaped as if oranges and similarly coloured. An example of a teapot from the JAFFA range is shown in the next section.

To avoid confusion, Embossed Plums or Embossed Oranges are more suitable names.
---
1930
The 1930s saw many more ranges introduced
beginning in 1930 with the JAFFA, BEE and Clam/Scallop Shell ranges.
Many shapes belonging to these three new ranges were registered as designs, too many to list here. Although they all included teaware, the generic name SALAD WARE was still used on the works to describe these beautifully modelled embossed wares.

The mother-of-pearl lustre used on the Clam/Scallop Shell range is a neat reference to the pearl that might have resided inside the mollusks. The Clam/Scallop Shell range was so finely potted that it is easily mistaken for bone china.

Alas, the name of the modeller is lost to us.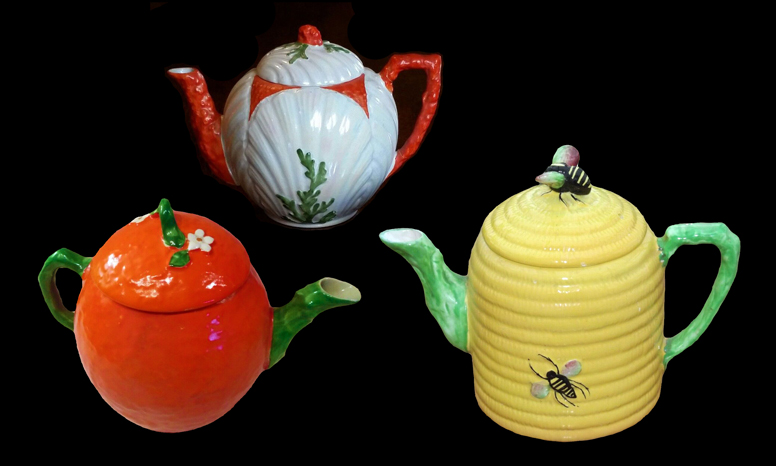 Today
, we also use the terms Fruit Embossed and Floral Embossed as a means of subdividing types of SALAD WARE, though the BEE and Clam/Scallop Shell ranges (unless fruits of the sea) cannot be so described. Neither can the COTTAGE range that was the next in the sequence of Salad Wares and introduced in 1931.


In 1932
, the COTTAGE range was followed by another large range called BASKET & FRUIT. These and more will be discussed in Part Two when I find the time to write another illustrated article about it. Writing is relatively easy for me but preparing good quality images and laying out web pages is very time consuming. Thankfully for you, it all appears as if by wizardry. If only I too had a magic wand...

© Harvey Pettit 2021.


NOTE
-
I use the following naming convention to distinguish between shape names and pattern names, which sometimes get mixed up:


For Shapes
: Factory given shape names, including names of SALAD WARE ranges, are printed in UPPERCASE - e.g. LETTUCE & TOMATO. Those in Lowercase have been named by me - e.g. Clam/Scallop Shell, Embossed Plums...


For Patterns:
Factory given pattern names are printed in
BOLD UPPERCASE
- e.g.
MIKADO
. Pattern names in
Bold Lowercase
- e.g.
Floral Comet
have been given by a long standing naming committee.