---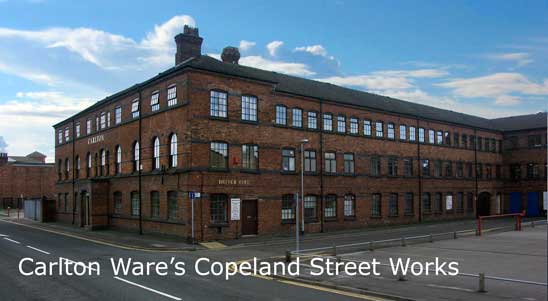 Legitimate Carlton Ware continued to be made after County Potteries led the pottery into receivership in 1989, and when its Copeland Street works was sold and turned into student accommodation and workshops.

Many do not realise that legitimate Carlton Ware

was made until recently

, specifically for the present owner of the Carlton Ware Trade mark, Francis Salmon. Although Carlton Ware no longer has its own pottery works, Mr Salmon used several independent potteries to make ware for him.

For the uninitiated, identifying legitimate Carlton Ware and establishing its age can be difficult. We hope this page helps you identify new and recent legitimate ware made elsewhere after the Copeland Street Pottery closed in 1989. This will also help you avoid the ever increasing number of fakes.

Sometimes, especially when this new legitimate ware is sold on eBay, the vendor does not say if it is new, recently made, or old, and when the style of the item looks old, mistakes can be made by purchasers.

Up until about 1992 John McCluskey, who had bought the Carlton Ware trade mark from the receivers in 1989, continued to offer a small range of items made at his industrial unit in nearby Stone. Mr. McCluskey continued to use the script mark, which was now his property, but added the letters TM above the letter e, as shown below.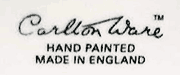 This helps us identify ware made under his aegis, though this mark was also used by the next owner of the trade mark. To date no fakes have been found by us with this mark.
In 1997, after a period of dormancy, Mr. McCluskey sold the trade mark to Francis Salmon. Without a pottery to make ware, Mr. Salmon first used Moorland Pottery to produce his pots. Bairstow Manor Pottery and others have also been used. Below are some of the backstamps that have been employed on this recently made ware. These clearly show the association between the maker or other and the owner of the trade mark.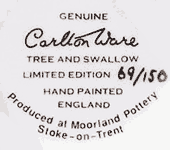 These backstamps are very detailed and even though sometimes the script mark appears without the addition of TM they are sufficiently different from any marks used before Mr. Salmon's ownership of the trade mark. In the examples above all are limited editions, which have been widely produced by many potteries in recent years. To date no fakes have been found by us with these marks.

Many of Mr Salmon's designs have been very much influenced by pottery from the 1930s. Some of the new shapes and decorations mix elements from different potteries. For example, one of these hybrids is a combination of part of Carlton Ware's 1930s DEVIL pattern and a typical Clarice Cliff 'balloon tree', as on this conical sugar shaker, a shape used both by Miss Cliff and Carlton Ware in the Art Deco era.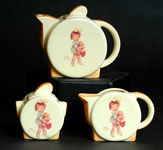 Another example of recent Carlton Ware amalgamates a teapot, milk and sugar shape used by Clarice Cliff with a pattern by Mabel Lucie Attwell, similar to those used by Shelley Potteries in the 1930s.

Because both examples look as though they are from the 1930s, it is not difficult to see why collectors of original vintage Carlton Ware can make mistakes and not realise they are modern reproductions.
Thankfully, Mr Salmon use

d

different backstamp's to those employed at Copeland Street, so the origin of these new, or newer, wares can be identified. The differences, however, can be slight and may help cause confusion, as may be the case on a current mark shown below.
This utilises the well-known Script mark, as well as a modification to what is known as the Coronet mark, not so well recognised. To date no fakes have been found by us with this mark.

Here, the Carlton Ware Script trade mark, which belongs to Mr. Salmon, has the addition of a tiny R in a circle just above and to the right of the letter e. This is the symbol for a Registered Trade Mark and was never used on ware made at Copeland Street.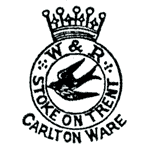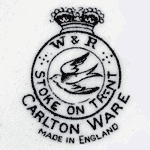 The Coronet mark, shown on the immediate right, was registered by Wiltshaw & Robinson as a trade mark in 1928, but for some reason it was never used. At first sight this looks like the crown mark, shown far right, but notice that the crown in the earlier mark, has been replaced by a coronet and
MADE IN ENGLAND
has been removed. The two marks are shown side by side so you can compare them easily. Also compare Mr Salmon's New Coronet mark with the one from 1928 and notice that for this backstamp he has modified the mark by replacing W&R with the abbreviation Est 1890 and removes Carlton Ware. Though differences are small they are significant and help us tell new from old.

To complicate matters further, in 2012, figurines backstamped Carlton Ware are now being made under licence from Mr Salmon for the Yorkshire based Artware Collectables using the potteries that Mr Salmon has used. The main point of sale appears to be eBay. ❑

© Harvey Pettit 2008 & 2012

Note - 2016 - It appears that Mr Salmon has now ceased contracting out the making of Carlton Ware and his website associated with it is no longer active.

Carlton Ware World addresses the issues of fakes on separate pages.
---