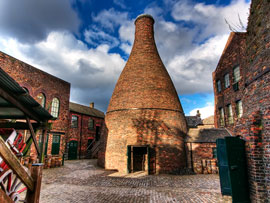 2015 Annual Get-together in The Potteries
October 17/18 - Staffordshire
We held our annual get-together at the Middleport Pottery, which has recently undergone a £9 million restoration programme, sponsored by The Prince's Regeneration Trust.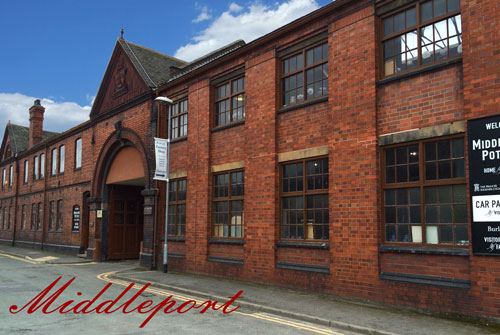 Middleport Magic

We were so impressed by this extraordinary venue that we had to support it and take advantage of its facilities and canal-side setting. The picture on the right shows the arched entrance beyond which lie wonderful things.

We had a very full programme on the Sunday, the main day, with Mike Maunder as compère, welcoming us all and introducing our speakers.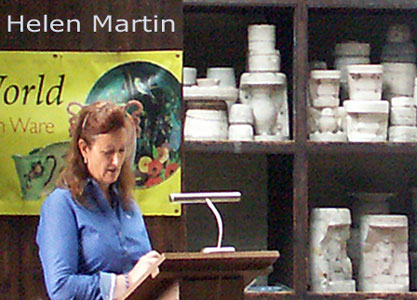 Helen Martin began the morning by taking us along a timeline from 1890 to the present day, focusing on Carlton Ware while relating it to National events.

Mike Maunder, our MC, then looked at the early years before blushware became dominant, allowing speculation on what was produced then and in particular on what was called Chicago Ware in a W&R advertisement from 1893.

The picture on the left shows Helen with blocks and cases, from which moulds are made. These lined the room, which was similar to the mould chambers at Carlton Ware's Copeland Street works.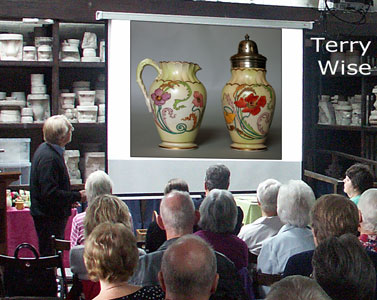 Terry Wise then gave a talk on the Arts and Crafts movement and how it related to Carlton Ware, showing examples of furniture with typical motifs associated with the style. In the picture on the right, he is showing a W&R Carlton Ware strawberry set in the
Art Nouveau Poppy
pattern.

Elaine Girling followed with a well-considered and informative talk on the important Handcraft range, much of which was designed by Violet Elmer. Elaine is co-author, with her husband Barry, of Cast Aside the Shadows, which focuses on the work of Miss Elmer.
Fruit & Floral
Before lunch, Barbara Andrew gave a light-hearted and entertaining talk on Carlton Ware's hugely successful Fruit and Floral Embossed wares. Beginning with the much sought after BUTTERCUP range from the 1930s, Barbara took us though to the MAGNLOIA range from 1960s.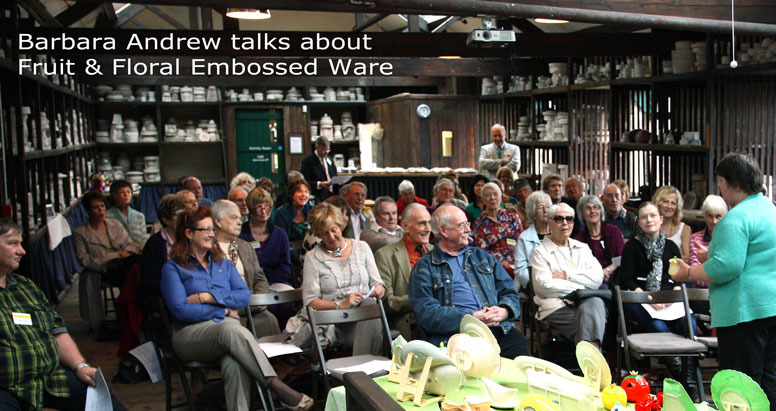 Barbara made some interesting observations about why Carlton Ware's embossed ranges were so popular, not least, because it was so well made and decorated. Our enthusiastic presenter handed out many examples for us to examine. This was of great interest to former employees, as they looked at the decorator's marks to see if it was a piece they had painted many years ago.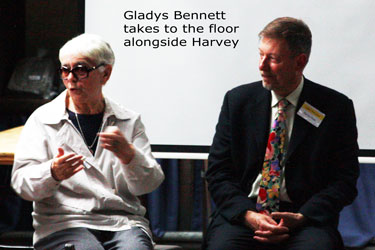 Masterspy & Mastermind!


After lunch, Masterspy reviewed some of his postings from the past year showing them in his usual wry and idiosyncratic way.

It was then time for Harvey Pettit to take the 'Mastermind Chair' to be grilled with questions on Carlton Ware. He was joined by former paintress Gladys Bennett, who talked about how, as a 15-year-old trainee, it took a year before being allowed to decorate Carlton Ware. Like so many former employees, Gladys charmed us with her recollections.
The day ended with the raffle, drawn by Vanessa Barnish, our Patron and Cuthbert Wiltshaw's granddaughter.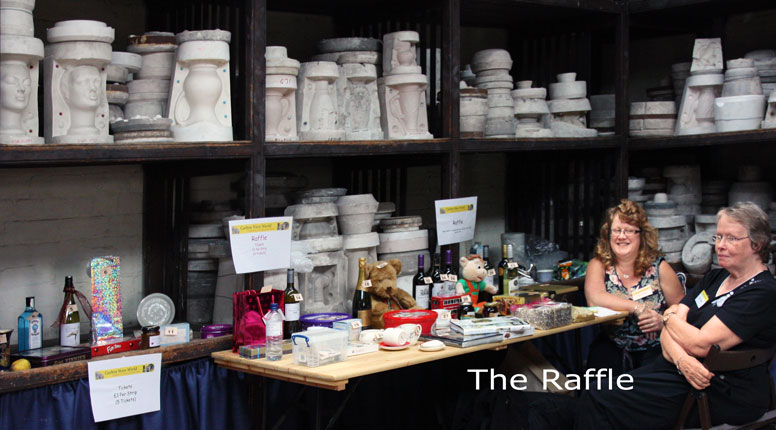 Around the room, we showed numerous displays of Carlton Ware, some relating to the talks. The pictures below show a selection of what there was to see.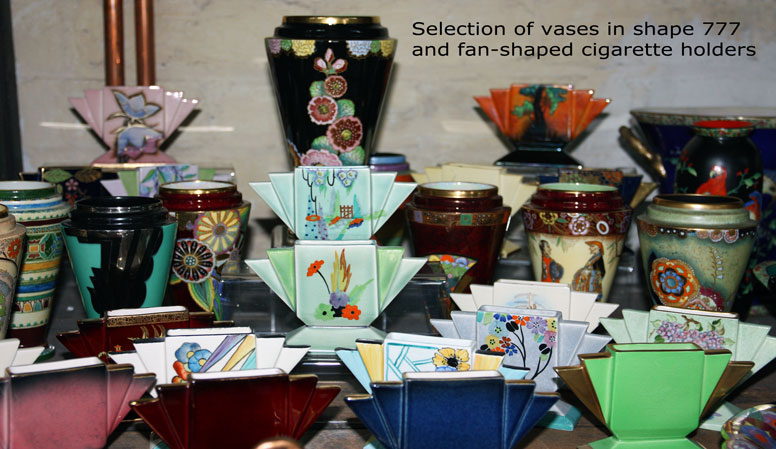 This year we were delighted to welcome Alison Parry, Julie Hennig, and Caroline & David Macdonald. We were pleased to see Pam Sayers from Melbourne in Australia with us. It was also lovely to see David & Veronica McIntosh and Arthur Puffett again.

Julie sent us pictures taken on the day and we had to show you some of these, especially of the soap dispenser in the Ladies! It's not like the ones at Watford Gap Services.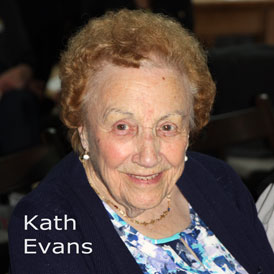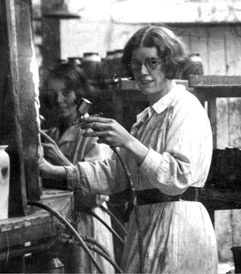 Birthday Bash

It was not only a special day for us but also for Kath Evans, who was celebrating her 90th birthday, so we were even more delighted that she was able to join us.

Kath was an aerographer at Copeland Street playing a vital part of the decorating process providing the ground colour and shading for the multitude of patterns.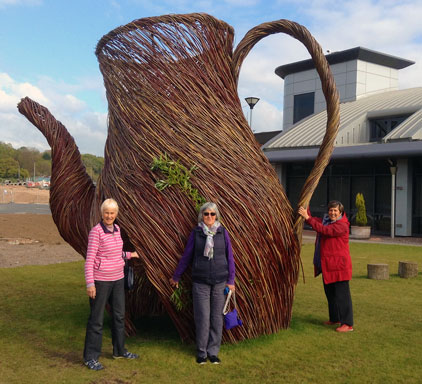 Wedgwood Whimsey
For the preceding Saturday, Carole had arranged for us to visit the Wedgwood Museum, where we had lunch before viewing the collection, now saved for the nation and on permanent loan from the Victoria & Albert Museum in London.

Within the complex were some willow sculptures in the form of a coffee pot and cup & saucer. This must be a clever play on the ubiquitous Willow pattern and the exhibits in the Museum. On the right, Vanessa, Heather and Pam wonder how to pour a cuppa!

Below, some of us bump into Josiah Wedgwood.

From the left, Vanessa, Douglas, Arthur, Harvey, Carole, Josiah, John, Sara, Veronica, David and Alison.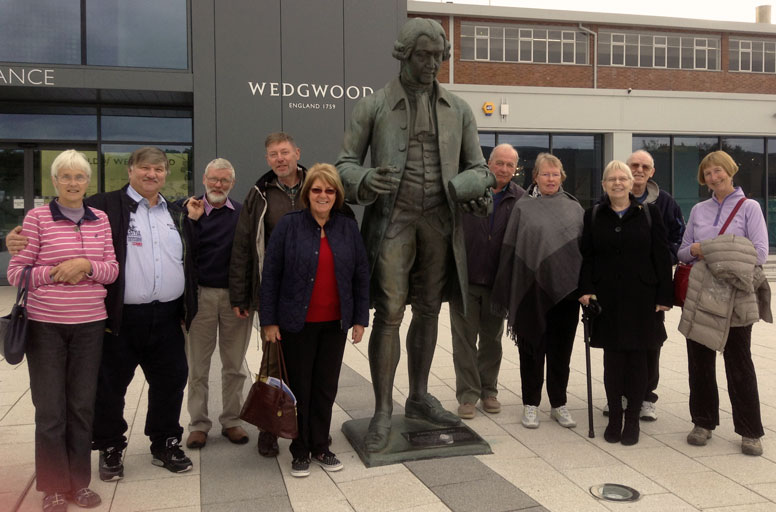 That evening Carole booked us in to eat at a Carvery on Festival Park, close to the city centre, from where we left for our hotels and lodgings to recover and prepare for the big day to follow, as described at the beginning of this article.
A Thank You
Thanks must go to the many people who helped organize the weekend. Namely,
Mike Maunder
for arranging the programme and for being MC;
Sara Broom
for contacting former employees and taking bookings and payment from us all;
Carole Moore
and
Heather Goddard
for finding the venue, booking it for us, liaising with Middleport and arranging the refreshments. Also, thank you to
Harvey Pettit
for promoting the event on our website and sending out emails to our 800 subscribers.

We must not forget
Derek and Jane Towns
for organizing and running the raffle, nor all those members who brought along lovely things for us to see in the displays that they set up. Thank you
Heather and Ray Goddard
for helping with the admin.

Big thanks must also go to our speakers,
Helen Martin
,
Mike Maunder
,
Terry Wise
,
Elaine Girling
,
Barbara Andrew
and
Masterspy
. We all appreciate the time that you spent preparing your talks and thereby entertaining us throughout the day.

On the technical side, we thank
Derek Towns
and
John Broom
for setting up the equipment and getting the data projector to behave by using the handle of a wooden spoon!
Pam Sayers
also helped with all of the labeling needed, so thank you too Pam.

We would also like to thank those who donated money towards club funds, some of whom wish to remain anonymous.

Finally, we must be thankful for the support that former employees always give us and of course
Vanessa Barnish
, our Patron, who has always been there for us.

Didn't we all do well! ❑