---
Introduced in 1930, JAZZ is one of the most astonishing Art Deco patterns by Carlton Ware. Perhaps, it is the archetypical Art Deco design found on any pottery. Indeed, it was used on the front cover of Essential Art Deco published by the Victoria & Albert Museum in 2003 to accompany their exhibition of the same name.

It is not known what influenced its designer, Enoch Boulton, to conjure up such a striking and inspired pattern. Certainly, we can assume that he was very much aware of the avant-garde and radical work that was first evident on the continent of Europe, particularly in France, during the 1920s.

Below are examples of its three variants.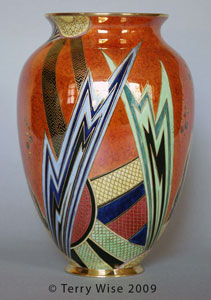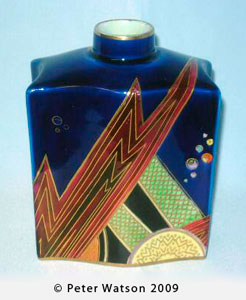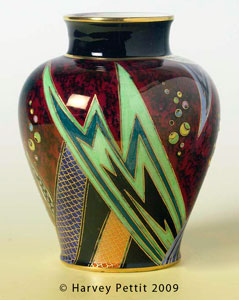 Who better than Carlton Ware to execute such an outré design with its brilliance of colour and form, completely capturing the zeitgeist of the jazz age. This, despite, but probably also because of, the economic difficulties created by the Wall Street crash of 1929.
© Harvey Pettit 2009


We would like to thank Terry Wise, Peter Wilson and The Cochrane & Pettit Archive of Carlton Ware for supplying the beautiful images above. Pattern numbers, in picture order, are as follows; 3353, 3361 and 3352.

Thanks also to Jack Segal for sending us the picture of the globular vase on the right.
Note - Factory pattern names are shown in bold upper case e.g. MIKADO, MAGPIE.
Names given by Carlton Ware World's long-standing naming committee and now in general use
are just bold. e.g. Heron & Magical Tree; Hiawatha; Floral Comet.
---