Stoke-on-Trent, October 2009
by Derek Towns.
Once again the annual Carlton Ware World get together has been and gone, seemingly
in a flash of total enjoyment.

Reduced to one day for the first time, that one day was packed from beginning to
end with Carlton Ware related activities.
The talks by Mike Maunder on Blushware
and Kathy Niblett on Wedgwood during the Carlton years were interesting, involving
and informative. I'm told the talk on Carlton China went well, but I was too busy
giving it to notice!
Following lunch, we were joined by many former employees of the Carlton factory which is always the highlight of the day. One lady, Rose Hampson, now 91 had travelled all the way from Devon to be with us. We were also pleased to welcome Jean Tomkinson, who had been Douglas Wiltshaw's secretary in 1949, some sixty years ago!

During the afternoon further events included the ever popular 'identification session' in which many unusual items which had been brought in by members were discussed among the group.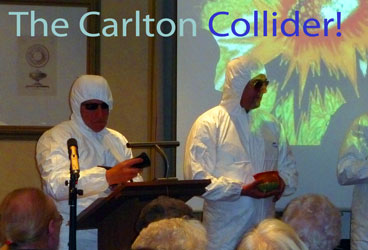 The Carlton Ware World Amateur Dramatic Society then took to the stage for a presentation of the 'Carlton Collider' a 'semi-serious' investigation into whether certain pottery, including Carlton Ware was radioactive.

Armed with a Geiger counter and suitable protective clothing the group demonstrated, with the assistance of the newly elected Chair, Heather Goddard, just how some types of glaze did indeed contain some radioactivity as the readings shot off the scale


Finally, we closed the day with the ever popular raffle, this year for the first time with cash prizes donated by members of the committee for the first three lucky winners pulled from the 'hat' by Cuthbert Wiltshaw's granddaughter, Vanessa Barnish.

Derek Towns
---