26 August 2011 - edited & extended January 2023
Our Treasures Toy Tea Sets
by Harvey Pettit
Wiltshaw & Robinson, the makers of Carlton Ware, produced an enormous range of wares, especially during the 1920s and 30s. These included toy tea sets.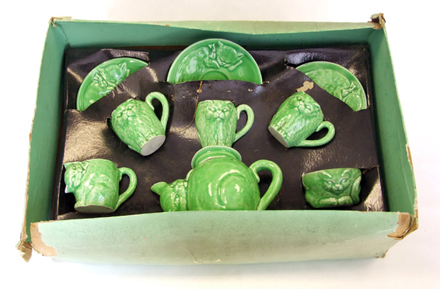 Two such sets were introduced in 1934, one in the form of cats, the other modelled as rabbits.

For practical, as well as presentational reasons, these diminutive tea sets were sold boxed.

Unsurprisingly, few of the boxes have survived, so it was a treat to find for sale on the Internet a complete boxed set. In shape records Carlton Ware called this set their
CAT SERIES
toy tea set.

To date, this tea set has been found in green, as shown, pale blue and pink.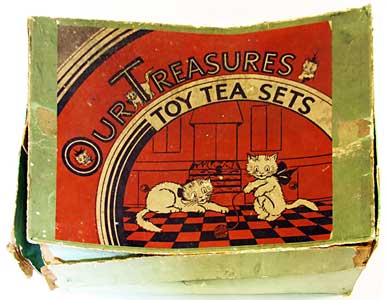 The box reveals that these sets were marketed under the name of Our Treasures toy tea sets. Three cups and saucers were included in this particular one. Before this discovery we may well have assumed that an unboxed set with three cups and saucers was incomplete.

The Art Deco graphics on the box is as charming as its contents.

Unboxed sets of six have also been found.
As we will see, sets for six from the companion
RABBIT SERIES
were also made.
The Royal Childhood Exhibition
held at Buckingham Palace in 2014 included a Carlton Ware
BUNNY tea set
bought by Queen Mary for Princess Elizabeth, who became Queen Elizabeth II in 1952.

After the purchase by Queen Mary, Princess Elizabeth's grandmother, a label was attached to the front of the box saying "As Purchased by H.M. THE QUEEN". A royal purchase was always good for sales. As you can see from the image, courtesy of The Royal Collection Trust, it was for six children.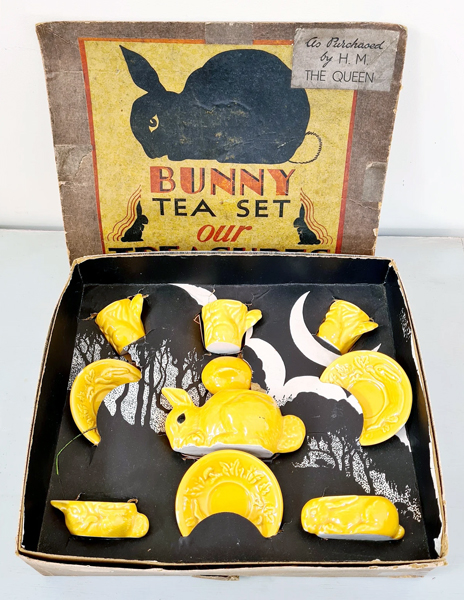 The
BUNNY tea set
also had some eye-catching graphics on the lid of its box, shown right. Notice the crescent moon and silhouette of trees printed on the cardboard insert into which individual items fitted. This, as with the
CAT SERIES
set shown at the beginning of this article, was for three.

The sets were also available for one child.
A label on the side of its box says SET No.1, so presumably SET No.2 would be for a set for two children etc.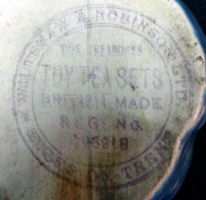 Carlton Ware made other toy tea sets but that is another story. It appears that on all of the pottery's children's tea ware, only the teapot is backstamped, presumably to keep production costs and price down. This unusual and large rubber stamped mark, shown right, gives the name of the manufacturer as Wiltshaw & Robinson, makers of Carlton Ware. As on the box, the stamp says Our Treasures TOY TEA SETS but adds British Made and a Registered Number, too indistinct to read, but I can tell you that it is 796919, which was registered in October 1934.

The BUNNY tea set has been found in pink, blue and yellow.

If you have either of these delightful sets in other colours or sizes do let us know, especially if you have a boxed set for six.


The arrival of the set for sale on the Internet coincided with another here at Carlton Towers!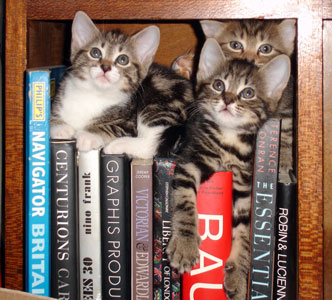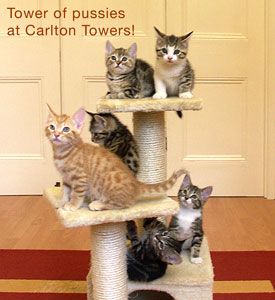 An abandoned cat moved in and shortly afterwards, under a bed, delivered us six kittens! You can see that already they have taken to books as three of them squeezed into a bookcase. ❑

© Harvey Pettit 2011. Edited & extended January 2023
---